New online mattress brands have been springing up in the last five years, making it easier than ever to find the perfect fit for your needs. As for a high-quality all-foam or hybrid mattress, you've definitely heard of Layla and Leesa.
Direct-to-consumer mattress and bedding firm Layla Sleep was founded in 2016 in the United States. The Layla Memory Foam Mattress and the Layla Hybrid Mattress are both produced to order in the United States from CertiPUR-US certified materials for Layla's simplified product range.
You are reading: Layla vs. Leesa Mattress Comparison
Similar to Layla, Leesa likewise sells mattresses and bedding directly to consumers in the United States. There are three models in Leesa's product line: the Original, the Hybrid, and the Legend. Leesa has been in business since 2014. Certified by CertiPUR-US, Leesa mattresses are manufactured in the United States. This means Leesa is committed to social and environmental responsibility, as well as openness and accountability.
They have a lot in common, yet they also have important differences. Let us help you pick between Leesa and Layla mattresses by doing a thorough comparison. We'll go over everything from the cost of the mattress to its components and performance so you can make an informed decision.
Sizing and Weight Options
Aside from the brand and type, the size of the mattress is possibly the most critical consideration when shopping for a new one. For a variety of reasons, the size of your mattress is important. To begin, the quality of your sleep may be impacted by the size of your mattress. Having a mattress that's too tiny will keep you awake at night. Also, if you're going to be sleeping with a spouse or a child, make sure your mattress has adequate space for everyone.
As a second consideration, you'll want to pick the right mattress for your bed frame and your room's size and height limits. Finally, the mattress's weight might have an impact on how easily it can be moved or transported.
Most mattress manufacturers offer a full variety of sizes, ranging from twin to California king, with a few notable outliers. In this article, we'll go over the most critical measurements you'll need to know when evaluating Leesa vs. Layla mattresses.
Layla
Layla Memory Foam Mattress
Height: 10″
Size Options: Twin, Twin XL, Full, Queen, King, California King
Layla Hybrid
Height: 13″
Size Options: Twin, Twin XL, Full, Queen, King, California King
Leesa
Leesa Original Mattress
Height: 10″
Size Options: Twin, Twin XL, Full, Queen, King, California King
Leesa Hybrid Mattress
Height: 11″
Size Options: Twin, Twin XL, Full, Queen, King, California King
Leesa Legend
Height: 12″
Size Options: Twin XL, Full, Queen, King, California King
Studio by Leesa
Height: 10″
Size Options: Twin, Twin XL, Full, Queen, King, California King
Unlike Layla, Leesa has three separate mattress models. In addition to the Layla Memory Foam and Leesa Original, both firms offer hybrid variants (the Layla Hybrid, the Leesa Hybrid, and the Leesa Legend).
In general, all-foam mattresses are lighter than those with metal springs. For those who need to relocate or travel their mattress, an all-foam type can be the best option.
Mattresses are available in a wide range of sizes and heights from each of the companies listed above. Leesa's luxury hybrid mattress, the Leesa Legend, does not exist in twin size.
Layla Hybrid is the best option if you like a mattress with a higher profile at 13 inches. In contrast, if you're seeking for a mattress that's less than 10 inches high, you may want to explore elsewhere. The mattresses offered by Layla and Leesa, on the other hand, will fit most standard bed frames and rooms.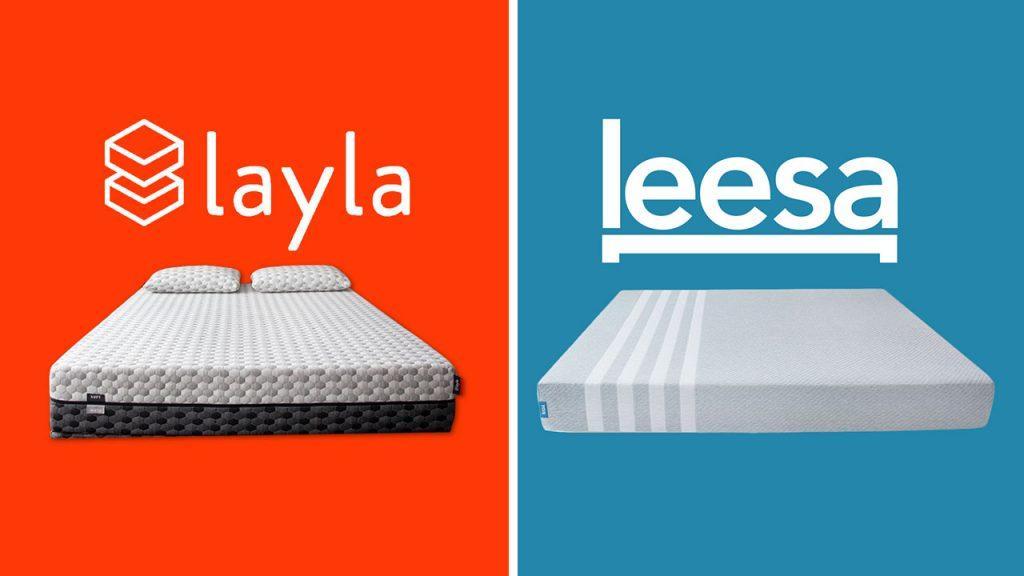 Construction and Materials Comparison
Comfort, support, and durability all depend on the mattress's construction and components. When contrasting Layla vs Leesa, keep in mind that each manufacturer offers both an all-foam and a hybrid mattress option.
All-Foam Mattress: An all-foam mattress is made of several foam materials. Memory foam and polyfoam can both be used in the construction process. As the bed's support core, high-density foam is commonly used in all-foam mattresses. In comparison to other mattress varieties, all-foam mattresses are less long-lasting yet lighter and less expensive.
Foam and coils are the two most commonly used mattress components, and a hybrid mattress blends the two. Microcoil layers can also be used in the comfort system of this type of bed, which normally contains a foam-based comfort layer and a spring-based core. Sleepers can reap the benefits of both materials while limiting their drawbacks with the help of a hybrid mattress. There are some drawbacks to hybrid mattresses, such as higher prices, but they're generally considered more durable.
We'll take a deeper look at each Layla and Leesa mattress's construction and materials.
Layla
In addition to an all-foam mattress, Layla offers a hybrid type.
It is an all-foam mattress with Layla Memory Foam Mattress:
Sixty-four percent polyester, thirty percent viscose, and four percent poly-lycra. Cooling cap made of ThermoGEL
Comfort layer: 3-inch copper infused memory foam
Transitional polyfoam layer of 2 inches
4-inch polyfoam core for structural support
Memory foam with a copper-infused comfort layer of 1 inch
Memory foam mattress Layla is meant to provide two distinct comfort levels. Copper-infused memory foam and zoned polyfoam are used on one side of the mattress. Comfort is somewhat soft (4) on this side.
Read more : Ghostbed vs. Purple Mattress Comparison
There is only one inch of copper-infused memory foam on the other side of the mattress. The Layla's support core is made up of 4 inches of high-density polyfoam, which is surrounded by two comfort systems.
Covering the Layla Memory Foam Mattress is ThermoGEL, which helps keep the mattress cool and comfortable. Flipping the mattress allows people to alter hardness levels without having to remove the mattress cover. A zipper allows for easy removal of the cover for cleaning.
One of the Layla Hybrid Mattresses features:
66 percent polyester, 30 percent viscose, and 4 percent poly lycra cover with 100 percent vinyl handles.
Memory foam with a 2.5-inch copper-infused copper layer
2-inch Polyfoam layer 6-inch pocketed coil support core for Tri-Zone Airflow
Tri-Zone Airflow polyfoam is followed by copper-infused memory foam that is 1.5 inches thick.
Foam and pocketed coils combine in the Layla Hybrid. When you're ready to change the hardness level of your sleep surface on the Layla Hybrid mattress, you can simply flip it over. There are vinyl handles built into the Layla Hybrid's cover, which makes it easy to move the mattress.
2.5 inches of memory foam with copper infusion and 2 inches of breathable Tri-Zone Airflow polyfoam make up one half of the comfort system. Softness on this side ranges from 3 to 4 on the scale of firmness.
The other side of the Layla Hybrid has a 1-inch layer of copper-infused memory foam and a 1.5-inch layer of Tri-Zone Airflow polyfoam for sleepers who like a firm sleep surface. A 6-inch layer of pocketed coils serves as the foundation for each comfort system.
Leesa
An all-foam type and two hybrids make up Leesa's three mattress options.
a single layer of high-density polyurethane foam
All-polyester mattress pad.
Polyfoam comfort layer of 2 inches
Layer of 2in Memory Foam for Pressure Relieve
Core of 6-inch polyfoam
Leesa's most popular mattress is the Leesa Original. Memory foam and polyfoam layers make up this mattress's two-tiered comfort system. With the help of the layers of comfort, pressure spots can be alleviated. Using high-density polyfoam as a foundation, the 6-inch support core provides a solid framework for the bed's comfort layers. Polyester and lycra make up the mattress cover, which is soft and breathable but also quite durable.
With the Leesa hybrid, you get the best of both worlds.
a cotton-polyester combination
1-inch polyfoam layer 1.5-inch perforated polyfoam layers 1-inch memory foam layers
Transition layer of 1-inch polyfoam
Pocketed metal coils that measure six inches in diameter
The Leesa Hybrid mattress is made up of five separate layers. A top layer of perforated polyfoam provides breathability, while two additional foam layers, one of memory and one of polyfoam, are used to provide further comfort. Comfortable and breathable, this system provides a close, body-conforming fit for the user.
This mattress has a six-inch core of pocketed metal coils, which provides a sturdy and robust foundation. Polyfoam is sandwiched between the coils and provides additional support. The quilted mattress cover is comprised of a cotton-polyester combination. The Leesa Hybrid is a slight upgrade over the Leesa Original, but is still fairly priced when compared to Leesa's luxury Legend series.
Luxurious Hybrid Mattress: The Leesa Legend
Blended polyester, recycled PES, cotton, merino wool, rayon, and spandex are used in the cover's construction..
A one-inch layer of aerated polyfoam
Memory foam with a one-inch thickness
Polyfoam encased 1.5-inch microcoils
Transition layer of 1-inch polyfoam
Metal coils with six-inch pockets support the core.
One-inch layer of polyfoam
They have just released their most expensive mattress, the Leesa Legend. This mattress has a total thickness of 12 inches and is made up of six separate layers. Cotton and wool are used to make the mattress cover, which is soft and hypoallergenic.
There are three layers of comfort in the Leesa Legend. High-density polyfoam that is both breathable and durable forms the first layer. The following layer of the Legend is a lesser density memory foam that provides additional contouring comfort. Microcoils are also used in the Legend's comfort system, which is zoned. This mattress has coils in the head and thigh portions, and polyfoam in the middle.
In order to prevent sleepers from sinking too far into the mattress, a transitional layer of 1 inch polyfoam has been added to the mattress. Over 1,000 individually enclosed metal coils are contained within 6 inches of pocketed coils in the support core. With this layer, you get bounce and support, but also sturdiness. A last layer of transitional polyfoam serves as a foundation.
In-Depth Ratings
Your personal preferences will play a large role in determining which mattress to purchase. Everyone's goals and tastes differ, so what one person finds to be a restful night's sleep may be a nightmare for another. For each of the following categories, you can see how a mattress performs and how well it fits your specific needs.
A new mattress is a significant investment, and you'll want to know how long it will last. If you're looking for a mattress that hasn't been put through the rigors of time, it can be tough to tell if it's going to last. Mattresses, on the other hand, typically last between six and eight years before they begin to show their age. Mattresses can endure up to ten or twenty years, depending on the model. Mattress materials are a major factor in the mattress's longevity. For example, a mattress with a metal coil support core is more durable than a mattress with a foam core. This includes the weight of the person who sleeps on it, how often it is rotated, and the climate in which it is used.
A method of isolating movement from the surrounding environment.
Motion isolation refers to a mattress' ability to prevent movement on one side of the bed from being sensed on the other side. It is a performance category. For persons who sleep in a shared bed, this performance category is the most critical. Motion transfer is less likely to disturb your companion when you change positions during the night or get up to go to the bathroom. As a solo sleeper, you will not need to give this category as much care when purchasing a mattress.
Sex: Mattresses aren't just for sleeping on. As a result, it's important to consider how effectively a mattress supports both sexual activity and sleep. Beds with greater bounce tend to be better for sex, according to the general rule of thumb. Having a little bounce in the surface of a bed makes it easier to get in and out of the bed. Contrast this to mattresses with a lot of body-contouring, which might make it more difficult to get out of bed.
No one enjoys waking up in the middle of the night, drenched in sweat. How efficiently a mattress regulates your body temperature while you sleep is known as temperature neutrality. You can adjust your body temperature by changing your sheets, blankets, pajamas, and thermostat. If you're looking for a mattress that will keep you cool while you sleep, you may want to look elsewhere.
A mattress's ability to alleviate significant pressure points, such as the shoulders and hips, is measured in this category. The best pressure alleviation can be found in mattresses that have a higher degree of body contouring. Mattresses made of all-foam tend to perform well in this area. This is also why most hybrid mattresses have a foam-based top comfort layer.
After being unpacked, new mattresses often emit a chemical odor known as "off-gassing." Volatile organic chemicals (VOCs) employed in the mattress manufacturing process are the source of this odor. Despite the fact that VOCs are not harmful, they can produce a distinct odor. The amount of off-gassing varies by mattress type and manufacturing process.
Consider how easy it is to get up and down from your mattress if you're a less mobile sleeper. Mattresses that are more durable will allow for easier movement. A surface's bounce, or how rapidly it returns to its original shape, is referred to as its resilience. Mattresses with a high level of resilience, however, are more susceptible to motion transmission.
Full body weight support at the perimeter of the mattress means it has superb edge-to-edge support. If you put weight on the edges of a mattress with weak edge support, it will sag. The useable surface area of your bed is increased and getting out of bed is made easier by good edge support. Unless the mattress perimeter has been specifically reinforced, softer mattresses and all-foam mattresses tend to provide less than normal edge support.
Layla
Layla Memory Foam Mattress
Layla Hybrid
Firmness
Reversible: Medium Soft (4), Firm (7)
Reversible: Medium Soft (4), Firm (7)
Durability

3

/5

4

/5
Motion Isolation

4

/5

4

/5
Sex

2

/5

3

/5
Sleeps Cool

3

/5

3

/5
Pressure Relief

4

/5

4

/5
Off-Gassing

3

/5

4

/5
Ease of Movement

2

/5

3

/5
Edge Support

2

/5

4

/5
Leesa
Leesa Original Mattress
Leesa Hybrid Mattress
Leesa Legend
Firmness
Medium (5)
Medium Firm (6)
Medium Firm (6)
Durability

3

/5

3

/5

3

/5
Motion Isolation

4

/5

3

/5

4

/5
Sex

3

/5

4

/5

4

/5
Sleeps Cool

3

/5

4

/5

4

/5
Pressure Relief

4

/5

4

/5

4

/5
Off-Gassing

3

/5

3

/5

3

/5
Ease of Movement

3

/5

4

/5

4

/5
Edge Support

2

/5

3

/5

4

/5
In-Depth Pricing
You get a lot of bang for your buck when you buy a mattress. Maintaining excellent health requires adults to get 7-9 hours of high-quality sleep each night. In other words, our bed is where we spend the majority of our waking hours when we are not awake. A new mattress, on the other hand, should last most people for at least a decade or more.
Read more : Mattress Pad vs. Protector Mattress Comparison
As a result, each person has a separate spending limit. Quality mattresses that come with warranties can be found at almost any price point. The amount of money you're willing to spend will help you determine what kind of mattress is best for you.
Size and materials are the two most important criteria in determining the cost of a mattress. You might expect to pay more for a larger mattress. As a rule of thumb, more durable materials are more expensive. All-foam mattresses, for example, tend to be cheaper than hybrid mattresses, but they may not last as long.
Here's a comparison of current Layla vs. Leesa mattress costs you may check out. Under $1,000 to more than $2000 is the price range. This is the MSRP (manufacturer's suggested retail price), so keep that in mind while comparing. You can readily find mattress offers online (including here) that will drastically reduce the cost of your new mattress.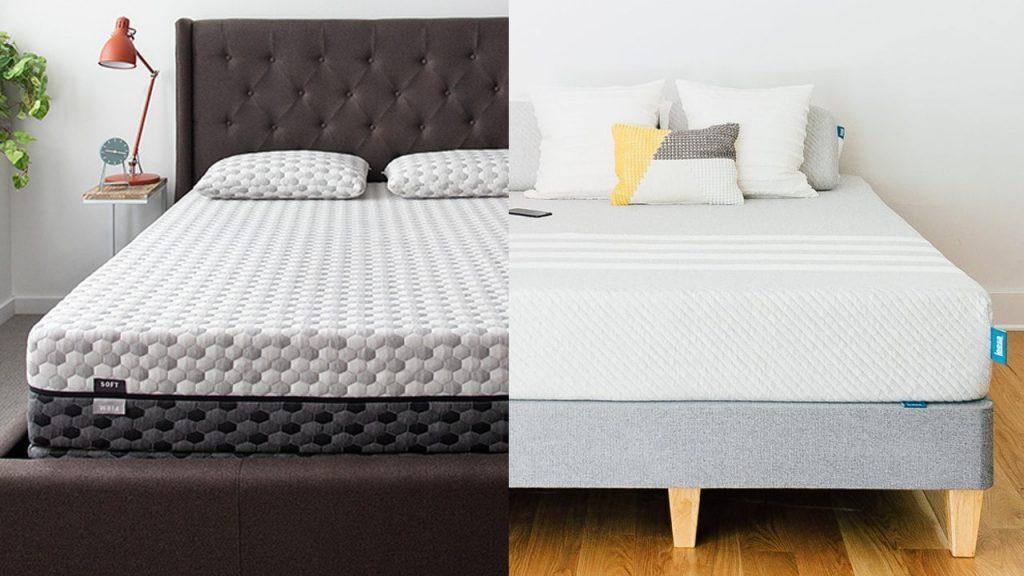 Layla
| | Layla Memory Foam Mattress | Layla Hybrid |
| --- | --- | --- |
| Twin | $749 | $1,299 |
| Twin XL | $849 | $1,399 |
| Full | $999 | $1,599 |
| Queen | $1,099 | $1,699 |
| King | $1,249 | $1,899 |
| California King | $1,249 | $1,899 |
Leesa
| | Leesa Original Mattress | Leesa Hybrid Mattress | Leesa Legend |
| --- | --- | --- | --- |
| Twin | $799 | $1,299 | – |
| Twin XL | $849 | $1,299 | $1,899 |
| Full | $999 | $1,599 | $2,199 |
| Queen | $1,099 | $1,899 | $2,399 |
| King | $1,299 | $2,099 | $2,699 |
| California King | $1,299 | $2,099 | $2,699 |
If you're looking for an affordable mattress, you can't go wrong with either Leesa or Layla. As with Layla and Leesa, both of these mattresses are manufactured in the United States. Aside from Leesa's B-Corporation certification, however, Because the corporation balances profit and purpose by evaluating its impact on workers, customers, suppliers, community and the environment; this is known as social responsibility.
When comparing Leesa vs Layla mattresses, the Leesa Original and Layla Memory Foam Mattress are the finest options for budget-conscious consumers. These two mattresses are the most basic all-foam mattresses from each brand. Both mattresses are built with high-quality, CertiPUR-US-Certified materials, despite the reduced price tag.
The Layla Hybrid and Leesa Hybrid, on the other hand, are good options if your budget is a little higher. The hybrid composition of these mattresses ensures that they will last longer than an all-foam mattress. In the end, the Leesa Legend is the best option if money is no object and you're seeking for a mattress that's packed with of special features. Layla doesn't have a comparable luxury mattress option.
Trials, Warranty, and Delivery
Layla Policies
Shipping – Customers in the United States and Canada can order Layla's products. To the contiguous United States, shipping is absolutely free. Due to the high cost of shipping for clients living in Alaska and Hawaii, as well as Canada, additional fees apply. Layla mattresses are custom-made to order. A mattress is manufactured and packaged for shipping within two to three days of receiving your purchase. FedEx Group shipping services are used by Layla. Depending on where you live, your order should arrive between 2-5 business days.
Mattresses from Layla are compressed, rolled, and shipped in a large box for easy transportation. You'll need to unbox, unwrap, and allow your new mattress to decompress before you can use it. The Layla Memory Foam Mattress decompresses within minutes of being seated on it. The Layla Hybrid Mattress, on the other hand, may take up to two hours to fully relax. Currently, Layla does not provide White Glove or expedited delivery.
Returns – A 120-night sleep trial is available for all Layla mattresses, regardless of brand. A two-week "break-in" period is required. During the 120-night sleep trial, you can return your Layla mattress for a full refund if you don't like it after the two-week break-in period.
There are no additional fees for customers in the lower 48 states who want a refund. Customers in Alaska, Hawaii, or Canada, on the other hand, will not be reimbursed for the additional shipping costs. Layla will arrange to pick up your mattress when you begin a return. A local charity or non-profit group receives donated mattresses from the corporation.
Warranty – There is no additional charge for Layla's non-prorated lifetime warranty on all of its mattresses. Manufacturing flaws in the mattress' construction and materials are covered under the warranty. Original owners and mattresses purchased via Layla's website or from licensed mattress dealers are exempt from this policy. Layla will repair or replace your mattress if it fits the requirements of Layla's guarantee, but consumers will be liable for shipping costs.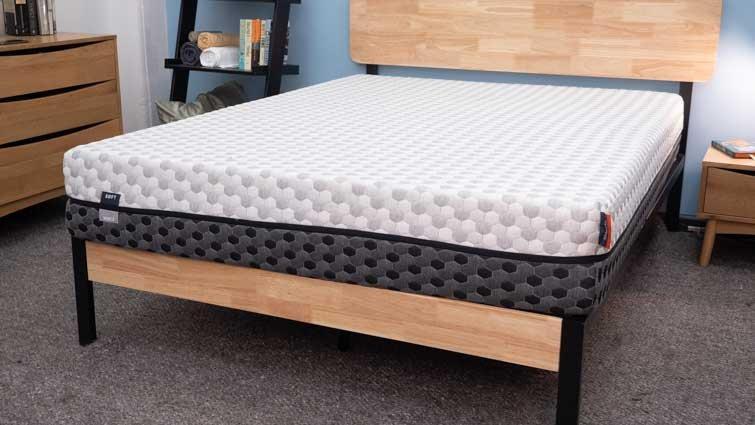 Leesa Policies
Shipping – Customers in the contiguous United States can get their Leesa mattresses delivered for free. However, if you live in Hawaii or Alaska and need a mattress transported, you may be responsible for additional shipping costs. For shipments within the United States, the company relies on FedEx Ground. Delivery can take anywhere from three to six business days. The company also ships to Canada, the United Kingdom, and Germany, although shipping charges may apply.
Compression and packaging in a box allow Leesa mattresses to be sent using regular methods. The White Glove delivery service from Leesa can be purchased for $150. An old mattress can be removed from your home as part of the service provided.
Returns – You can return your Leesa mattress for free if you're not satisfied with it during the first 100 days. Prior to making a return, you must give your new bed a minimum of 30 days to break in and evaluate its comfort. During the 100-night sleep trial, you can return your mattress for a full refund after 30 days. Alaska and Hawaii residents, on the other hand, must pay a $100 return fee. It's Leesa's responsibility to pick up and donate your old mattress.
Warranty – Non-prorated, limited warranty: Leesa mattresses are covered for ten years without further charge. Your mattress is not covered for normal wear-and-tear that occurs as a result of prolonged use. Most of the mattress' construction and materials are covered by the warranty. Leesa will replace or repair your mattress for free if it fits the requirements of the guarantee. Customers, on the other hand, are responsible for any shipping costs related with making a warranty claim.
Layla vs. Leesa: Top Similarities
Both mattresses stand 10 inches tall and are made entirely of foam.
Memory foam is used in both of their constructions.
Both are supposed to keep folks from getting too heated when they're trying to sleep.
Layla vs. Leesa: Key Differences
There are two types of mattresses available: the Layla and the Leesa.
While the Leesa features memory foam in the second layer, the Layla has it on the top. As a result, the two mattresses have slightly different sensations.
Memory foam-like in the Layla and balanced foam-like in the Leesa are the distinguishing characteristics of these two mattresses.
The Leesa mattress is significantly firmer than the Layla mattress.
Who Should Pick Layla:
For side sleepers, the Layla is the clear winner. I experienced less pain and discomfort in my shoulders and hips while lying on this mattress.
You can't go wrong with either of these mattresses if you're looking for one that's less firm.
Like sinking into your mattress? Then this might be a better option for you if you enjoy the sensation of sleeping "in" rather than "on" your mattress.
Who Should Pick Leesa:
A medium-firm mattress is excellent for those who desire more support than the Layla; it is medium-firm, so one gets a little more support than on the Layla.
Even whether you prefer to sleep on your stomach or back, there's little doubt that the Leesa will provide better support for your hips thanks to its firmer feel.
A good alternative for those who prefer to sleep "on" rather than "in" their mattress, but still want a wonderful pressure-relieving foam feel. This mattress may be a decent option for those who want that.
Overall
These mattresses are clearly different. There are two options for side sleepers: the Layla and Leesa. As a consumer, you should go over the information in this article a few times and think about your personal sleeping habits before making your final decision.
Source: https://bestpillowsleepers.com
Category: Comparisons