Have you ever slept while overheated? Then you'll agree that the discomfort experienced makes the night seem too long. Overheating get caused by many factors like a medical condition, menopause, or weather. Whatever the cause, shutting your eyes in such a state becomes impossible especially in the absence of a good air conditioning. More so, poor sleep can affect your health. But thanks to the introduction of the cooling pillows, you no longer have to worry about the discomfort associated with excess heat while sleeping. A cooling gel pillow will regulate your body temperature as it gives you the support you require to enjoy a sound sleep. Are you wondering what the best cooling pillow entails? No need to fret; this article will give you an insight into everything you should know of a cooling gel pillow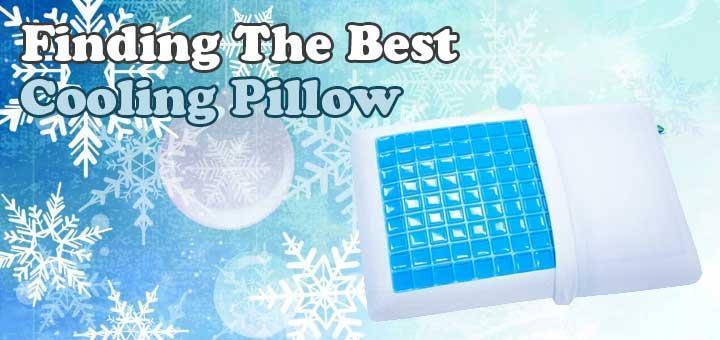 According to Martha Jefferson Hospital Sleep Medicine Center's medical director, Christopher Winter, who is also the author of the book "The Sleep Solution", cooling pillows are many on the market but are different in many ways. According to him, the best cooling pillows are those filled with shredded latex fillings or gel pillows for those who don't mind the dense texture. Christopher advises against the gel pads placed across the pillow. According to him, they feel like one is sleeping on a magazine.
With the many designs, models, covers, and materials used in making cooling pillows, getting one that suits you can be a headache. But put back the smile on your face as today is your lucky day. In this article, you'll get to learn shopping tips that will assist in you ending up with the best cooling pillow to cater for all your needs. Check them out.
Factors to Consider Before Buying a Cooling Pillow
Water or Gel Based
Cooling pillows come with external layers made with either gel or liquid. Both types of layers work great in absorbing heat from our bodies through a process called conduction. Heat gets absorbed from one's body starting with the neck and head. It then gets dispersed across the water or gel layer, creating a cooling effect that leaves you comfortable, enhancing a peaceful sleep.
Cooling pillows most preferred are those containing gel.  Often, they get combined with memory foam to give optimal comfort. For the gel to perform excellently, it depends on the cooling pillow's quality.
The advantage of water options is the fact that they get customized easily. The pillows are also firm, and they conform to contours, offering the best back and neck support. What you may not like in these water option cooling pillows is the fact that they can get heavy and noisy if air slips into the pouch after filling the water. As a light sleeper, this aspect can disturb you. But there's nothing to it, you only need to let the air out, and the issue will get sorted out.
Maintenance
It is not possible to machine the gel cooling pillows. You can only maintain them by hand washing them and leaving them outside to dry. But it's different with the water-based pads. You can machine wash them, but only after emptying the pouch.
Breathable
Just like the side sleepers' pillow like the CozyCloud Bamboo Shredded Memory, or the Buckwheat Pillow, cooling pads get made of breathable materials like the bamboo or buckwheat. With these materials, retaining heat is impossible. Air also gets to flow freely within the pillow. Therefore, hot air usually gets unable to build inside. Also, the circulating air assists in evaporating moisture, resulting in a refreshing and comfortable cooling effect.
For the cooling pillows made from buckwheat, they come with many processed husks that do not get depressed easily. As a result, they offer firm support. Buckwheat is a natural ingredient, meaning the pillows contains non-synthetic cooling agents. Anyone can, therefore, use them as they are hypoallergenic. People with allergies can use these pillows as their best choice. Cooling pillows made from bamboo usually come with a soft outer layer made from bamboo and an interior made from contouring memory foam.
Maintenance
The cooling pillow's cover made from bamboo are machine washable. But you cannot wash the buckwheat models because the hulls will get damaged. You only need to clean its cover. It's, therefore, advisable to get one with a removable cover.
Material Change
Some cooling models get made with a PCM or phase change material to help regulate the body temperature. Usually, they come combined with a contouring memory foam. The materials contain a high heat fusion melting rate where they get to solidify on reaching specific temperatures. In the process of changing from liquid to solid, these materials release to or absorb heat from the body. In case you feel hot, the pillow helps in cooling you down. When cold, they get to heat you up. Amazingly, NASA developed PCM technology and was the first to test its quality. The technology is fantastic.
Maintenance
It's not advisable to machine wash PCM materials as they get combined with memory foam. If machine washed, they get ruined. You can only hand wash such cooling pillows.
Materials Used
Consider the following material used in the cooling pillows:

Memory Foam
It emerges as the most popular material used in making cooling pads. The fact that it perfectly molds into a person's head and neck, providing firm support and relieving pressure points makes it incredible. But compared to other pillow types, they come as heavier and denser. As a result, stomach sleepers are not recommended to use this pillows. The pillows' height will make them uncomfortable.
Other cooling pillows come with shredded memory foam. Such pads are lighter and conform to a person's body shape more efficiently compared to the solid foam pillows. Also, air circulates better than in the other memory foam pillows, making them ideal for offering a cooling effect as you sleep. But since a shredded memory pillow comes as less dense, its level of support isn't as pleasing as that provided by a standard memory foam pillow.
Many memory foam cooling pillows come with a scent that may not please you. But they also come with instructions to air the pad before use. The odor should go away within the first hours of airing.
Gel Fiber
It is common in many cooling pillows. Air flows smoothly within the pad, giving you a refreshing sleep. You can easily maintain the cushions as they can get washed and are designed to feel like down. The support provided by these pillows is excellent, but it feels much fluffier and plusher than a memory foam cooling pillow.
Natural
If a cooling pad gets made from natural materials like bamboo or wheatback, their non-synthetic nature makes them fit for those people suffering from various allergies, making them an excellent choice.
Design
It's not wise to buy a cooling pillow that does not suit your sleeping style. It may be the best in the market, or the most expensive but if you feel uncomfortable while using it, then it's not the best cooling pillow for you. The best pad is one that meets all your needs. If you sleep on your back or stomach, a thin, soft and medium-firm pillow will work out great for you. Extra firm and high pillow work out best for side sleepers as they offer maximum support.
For side and back sleepers with shoulder, neck, and back pain, they can go for the cooling pillows with a curved design that molds to their body. The spinal gets aligned in place as they keep a person cool throughout the night.
Warranty
Warranty comes to a guarantee of the pillow's quality. You also get assured value for your money. If the cooling pad develops a problem within the warranty period, the manufacturer rectifies the problem for free. Sometimes, you get exchanged with another brand new cooling pillow. Cooling pillows with three years and above warranty period indicates the best quality.
Best cooling pillow for night sweats 09/2023
Coop Home Goods – Eden Shredded Memory Foam Pillow (Standard)
The neck support given by this pillow is excellent. It comes with a cover made from 40% Bamboo and 60% Polyester, attributing to its breathability feature. With this pillow, say goodbye to those hot nights, thanks to the memory foam used in its filling. The foam is a cooling gel that assists in drawing up heat throughout the night as you sleep, ensuring you enjoy a sound sleep. The shredded memory comes as cross-cut pieces with poly fibers to avoid clumping or getting compact. As a result, more air can pass through, thereby regulating your body temperature.
It gets made in the U.S.A by professionals and experts, that's why you don't experience pillow pinch with this pad. The support is from edge to edge, ensuring optimal refreshing rest. You will fall head over heels with this pillow's adjustment feature. It adjusts to how you shift, and you need not send it to the manufacturer for adjustment. You can easily customize it at home. It comes with an inside and outer cover to allow you add or remove the fillings to your preferred firmness.
Xem thêm : 10 Best Down Pillow 09/2023 Updated
The Coop Home Goods – Eden Shredded Memory Foam Pillow get made from CertiPur-US certified memory pillow. What's impressive is the fact that the cushion gets easily maintained. Both the cover and the pad are machine washable. More so, you get a guarantee for your money. The manufacturer gives you 100 days to test the pillow, if it does not meet your expectations or needs, you get a refund.
Reasons to Buy This Pillow:
Allows air to circulate freely within the pillow
Regulates your body temperature
Free from TDCPP, PBDEs, and TCEP flame retardants
Dust mite resistant
Machine washable
Cons:
Comes with an odor though it lasts for some few hours
Classic Brands Reversible Cool Gel and Memory Foam Double-Sided Pillow
The pillow gets designed to offer orthopedic support. It comes with memory foam and cooling reversible gel. The cooling gel is on one side to provide warm nights while the other side gets filled with the memory foam for colder nights. You will love the way your head get cradled by the soft memory foam of this pillow. Your neck and back get held in a comfortable sleeping position. More so, the pad retains shape even after using it on countless nights.
Its size is 16" inches lengthwise, the width is 24" inches, while the height comes as 5" inches, making it ideal for stomach and back, and side sleepers. Discomfort from excess heat becomes a thing of the past with this pillow. The temperature gets regulated by the cool gel memory foam where it disperses the heat by allowing air to flow freely within the pad, enhancing a comfortable night.
You don't have to worry while using this pillow if you suffer from any allergies as it is hypoallergenic. Its mesh knit cover gets removed and easily maintained as one can clean it with a machine. If you want to purchase this pillow, you can get it at any time from its sellers, and you get treated with a warm reception by their professional yet friendly customer service.
Should you go for This Pillow?
The answer is a big YES! Check out why:
It regulates your body temperature
Cradles your head
Optimal neck and back support
Ideal for all type of sleepers
Can be used by persons with allergic conditions
Machine washable cover
Medium-plush feel
Available at anytime
Reversible design
Cool gel technology
Cons:
Comes with a robust off-gassing smell that lasts for few days.
PharMeDoc Contour Memory Foam Pillow w/ Cooling Gel Technology
It gets designed in California, the U.S.A. with a fantastic technology where a cooling gel gets used as the memory foam. As a result, the tossing and turning that comes with excess heat while you sleep become history. The cooling gel diffuses the heat, enhancing a peaceful sleep. It comes with a comfortable curved shape, making it ideal for people with orthopedic issues. It relieves back, shoulder, and neck pains completely. Its curved contour design also helps in aligning the spine and reducing relieving pressure points.
The cover is removable and comes with 60% Polyester, making it easy to clean as it is machine washable. The outer material allows air to circulate freely within the pillow, thereby regulating your body's temperature. If you suffer from any allergic condition, then this pillow is made for you. It is hypoallergenic and resists dust mite. You get to choose the height that fits you between 4" inches and 5" inches. What's fantastic the fact that you can customize this pillow at home for optimal comfort. No one loves wasting their hard earned money; the manufactures of this pillow respect this aspect and gives a lifetime warranty. Isn't it wonderful?
Benefits of This Pillow:
Breathable feature
Regulates body temperature
Optimal head, neck, shoulder, and back support
Relieves pressure points and body pains
Reversible pillow
Can get customized
Removable and machine washable cover
Hypoallergenic
Lifetime warranty
Cons:
Only one side comes with a cooling gel
You need to air it first before use
Xtreme Comforts Slim Hypoallergenic Bamboo Shredded Certipur Memory Foam Pillow
It is one of the best pillows ever made in the U.S.A. According to Wirecutter, one of the renowned review organizations in the world, this pillow topped as number one in their list of the best bed pillows. If you love thin pads or are a stomach sleeper, then this is the pillow to use. The memory foam used as fillings of top-notch quality. It gets certified by CertiPUR-US and meets the Stringent durability, content, and emissions standards.
You can rest while assured that you are using a healthy pillow. Thanks to the many lab tests carried out to ensure that the pad is free from any heavy metals, mercury, lead, and flame retardants like PBDEs and TDCPP. While using it, this pillow does not go flat or become lumpy due to the shredded memory foam used. It conforms to your neck or head contour, ensuring your spine's alignment and comfort. Do you snore or suffer from migraines? Then this pillow was designed for you. It helps in alleviating orthopedic problems.
The bamboo cover is a game changer. It is super soft, breathable, removable, and machine washable. The fabric allows the air to circulate freely, thereby regulating your body temperature and offering you extreme comfort as you sleep. It doesn't matter whether you have any allergic issues; this pillow is dust resistant and hypoallergenic. It comes with a 30-day return service if you don't get satisfied. More so, the manufacturers offer a six year warranty.
Pros:
Allows air to circulate freely within the pillow
Regulates body temperatures
Breathable, removable, and washable cover
CertiPUR-US certified memory foam
Optimal support and comfort
Ideal for all type sleepers
Hypoallergenic and dust resistant
Adjustable
30 day trial period
Six-year warranty
Cons:
Adjustable for only the side and back sleepers
Perfect Cloud Memory Foam Pillow with Dual Cooling-Gel
It gets designed scientifically by use of a carefully constructed quilted gel layer to help you enjoy a refreshing night as you sleep. The extreme comfort derived from this pillow get attributed to the ventilated memory foam used as its fillings and the soothing gel. You experience a sound sleep and wake up feeling refreshed. Do you suffer from nervous tension? Then say goodbye to those sleepless nights caused by back, head, and neck pains while using the Perfect Cloud Memory Foam Pillow with Dual Cooling-Gel
The cover gets made from a stretch knit cover made from a premium textile. Cleaning this pillow is like a downhill task. You only need to remove it through the zipper and wash it gently. The pad is super soft; you may be tempted not to use its cover. You get to test whether the pillow suits you for 30 days. If you don't like it, then you get your money back from the manufacturer. As a guarantee to your purchase, the pillow comes with a ten-year warranty.
Why is Perfect Cloud Memory Foam Pillow with Dual Cooling-Gel the Best Cooling Pillow to Buy?
Comes with a cooling gel that keeps you fresh throughout the night
Super comfort and soft
Optimal support
Removable and washable premium knit cover
Reversible
Hypoallergenic materials
Gusset siding and ventilation holes
30-day trial
Ten-year warranty
Cons:
Spot clean only
The surface may not feel that cool
Sleep Whale – Premium Adjustable Shredded Memory Foam Pillow Derived From Bamboo
The longevity is impressive, thanks to the original shredded memory foam used to fill its inside and the 40% Bamboo and 60% Polyester used in making its cover. The materials used also contribute to its super softness. The fact that you can adjust this pillows firmness by adding or reducing the memory foam makes it more convenient and a guarantee to any restful nights. It also contours to your desired shape, making it the best solution for your neck problems.
Are you a side or stomach sleeper? Then this pillow suits you perfectly. It offers excellent head support which in turn relieves all the back pain. Any person can use this pillow, thanks to its hypoallergenic properties. It also resists dust mites, mold, and bacteria. The cover allows air to circulate through, offering a refreshing sleep. It is also easy to manage as both the pillow and the cover are washed and dried using a machine. You can even spot clean it using some water and a little soap.
Why You Should Choose Using This Pillow
Air flows freely within the pillow
Regulates your body temperature
Optimal support and comfort
Super soft
Adjustable
Dust mite resistant and hypoallergenic
Machine washable and dried
Cons:
It comes with an odor that goes away shortly after airing.
Classic Brands Cool Sleep Ventilated Gel Memory Foam Gusseted Pillow
Xem thêm : Best Wedge Pillow For Acid Reflux | Elevate Legs And Snoring
It is ideal for both back and side sleepers, thanks to its loft of 4.5 inches. Its dimensions are 33" in width, 16" inches for the length, and the height is 6" inches, constituting to a perfect standard size suitable for many people. You will love the responsiveness that comes with this gusseted pillow. Thanks to its memory foam infused with the cooling gel. Your neck, shoulders and neck enjoy optimal support.
It comes with a breathable knit cover responsible for dispersing body heat and wicking away all moisture to enhance a comfortable sleep throughout the night. It is ideal for everyone, even those with allergic conditions as it is hypoallergenic and resists bacteria, dust mites, and mold. On touching the pillow, you experience a medium-plush feel. The surface is soft enough to use without a pillowcase. The customer service from its makers is top notch. You receive a warm welcome and professional advice. You don't have to worry about when you can buy it as it is available any day and time for sale.
Benefits of Purchasing This Pillow
Ideal for back and side sleepers
Breathable pillow and cover
Regulates body temperature
Optimal body support
Soft and comfortable
Hypoallergenic
Quality cooling gel
Medium plush-feel
Cons:
Should get aired before use
Deluxe Cooling Shredded Memory Foam Pillow
Plixio makes it and gets renowned as one of the best cooling pillows on the market today. It comes with a breathable cover made from 40% Bamboo Rayon and 60% Polyester. To enhance its cooling feature, it gets created with a cooling gel infused with shredded foam, making it great in keeping you cool throughout the night.
Are you sensitive to latex or down pillows? Then worry no more with Deluxe Cooling Shredded Memory Foam Pillow. It comes with a hypoallergenic pillowcase that is easily removable and machine washed. If you have health issues such as migraines, snoring, neck pain, insomnia, back pains, TMJ, and allergies, then this pillow is meant for you. The fact that either a back, stomach, or side sleepers can use this pillow makes it impressive. It molds to your neck's or head's shape, keeping your spine well aligned.
Thanks to the quality memory foam used in its making, the pillow never goes flat. It is therefore ideal for anyone who prefers firm or soft pillows. It comes with a dimension of 35" x 18" x 7.5" inches. On purchasing it, you get to enjoy a two-year warranty.
The Following Reasons Should Convince You to Go For This Pillow:
Breathable Polyester and Bamboo cover
Maximum body support and comfort
Suitable for people with allergic conditions
Relieves body pains
Ideal for all type of sleepers
Retains shape after using
Machine washable
Comes with a two-year warranty.
Cons:
Comes with an odor that goes away quickly after airing
May seem expensive to some people
WEEKENDER Ventilated Gel Memory Foam Pillow – Standard Size
It gets designed to offer an optimum cooling effect. The memory foam gets infused with a gel that regulates temperatures to provide comfortable sleep conditions. The support is excellent while the comfort is uncompromised, thanks to the high-quality memory foam used as its fillings. It also helps in relieving neck, back, and pressure points.
It comes with a removable and machine washable cover that allows air to move freely. The design is also ventilated to maximize air circulation. You, therefore, don't have to worry about waking up in a body soaked with sweat. Thanks to the material used in making the cover, it offers a very soft surface. Many people get to use this pillow as the size is ideal for all. It comes in dimensions of 25" x 16" inches. The loft is 5" inches. It comes with a three-year warranty.
Reasons to Choose This Pillow:
Regulates temperature
Ventilated design
Optimal support and comfort
Relieves body pains and pressure points
Removable and machine washable cover
Ideal for all sleep types
A 3-year warranty
Cons:
The comfort appears medium to some users
With the above cooling pillows, getting the best cooling pillow that suits you shouldn't be a hard nut to crack for you anymore. But they are many, and you need to choose between them. Without the knowledge of how to do so, it can turn out to be an uphill task. But no need to fret; use the tips described above on how to choose the best cooling pillow.
MALOUF Z Shredded Gel Infused Memory Foam Pillow
MALOUF memory foam pillow is a very popular cooling pillow that helps in aligning the neck and spine pressure points by creating supportive sleep patterns. Infused with cooling gel beads, this pillow captures and evenly distributes body heat helping with the maintenance of temperatures that are consistent. The cooling gel beads also prevent any overheating during sleep.
Air flows freely between different parts and pieces of the pillow creating an easy breathable surface conducive for a good sleep. You can also fluff and pat the pillow to fit the ideal position you want for your neck support.
The pillow comes with a removable cover made from Tencel. The cover can manage moisture and regulate temperature to give you a conducive and comfortable sleep environment.
Reasons to choose this pillow
Comes with a soft cover that regulates temperature and manages moisture
The pillow itself also regulates temperatures
You can fluff and pat it to suit your sleeping patterns
It feels soft against the skin
Good for all kinds of sleepers
Comes with a 3-year manufacturers guarantee
Affordable
Cons
Besides some users claiming that the pillow is a bit stiff the first time they used it, there weren't any other complaints.
Benefits Derived From Using a Cooling Pillow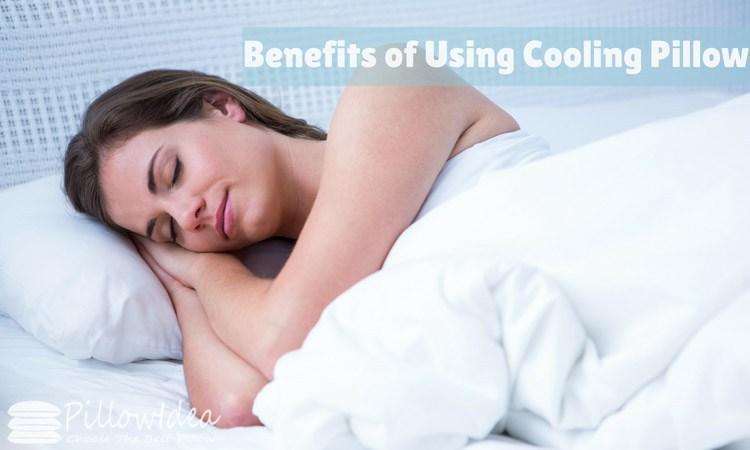 Coolness
The market offers many types of comfortable pillows, but the cooling pads take that extra step in providing ultimate comfort. The sleep gets more relaxed, thanks to their cooling effect that hinders excess heat from disturbing your slumber.
Pocket-Friendly
Air conditioners use electricity which in turn comes with a bill. A cooling gel pillow will give the same services derived from an air conditioner and uses no energy, thereby saving you some cash.
Many Types
Cooling pillows come in different sizes and designs. Depending on what suits you, you get to choose from hypoallergenic, classic, or with or without memory foam.
People Recommended to Use a Cooling Pillow
Anyone bothered by heat while sleeping gets advised to use a cooling pillow. Also, when the hot season comes, people get encouraged to seek services of a cooling pad. You cannot ignore the value of a cooling gel pillow in a warm and humid climate. According to a study by the American Academy of Sleep, people who have insomnia get recommended to use a cooling pad while they sleep as it helps in cooling down their prefrontal cortex.
Conclusion
As illustrated above, the best cooling pillow is the one that helps solve all your problems and offers optimal support and comfort. The fact that many cooling pads get found on the market today should not give you a headache on what to take. If you follow the above buying guide tips, getting the best cooling pillow that suits you becomes hustle free. Also, consider the discussed qualities of an excellent cooling pad before buying. Say goodbye to those hot nights by getting a cooling gel pillow today.
Nguồn: https://bestpillowsleepers.com
Danh mục: Best Pillows