Duvet, comforter, quilt, pillow sham are just some of the weird phrases visitors encounter in the bedding department. Just to be sure they are checking out with the correct item, it appears like someone needs a thesaurus.
There's no need for a thesaurus to comprehend the differences between quilts and comforters. For those of you who aren't sure what kind of bedding to buy, I've put up a guide to help you out.
With the help of this quilt vs. comforter comparison guide, most readers will be able to determine which product is best for their needs!
Quilt And Comforter Definitions
To begin, what exactly do we mean by "quilt"? A quilt consists of three layers: a top layer, batting, and a bottom layer, all of which are interwoven. It's the quilt's top layer that truly makes it pop. These are the patchwork crafts that can be spotted draped over a chair or lying over a country bed when you visit grandma's or watch a John Ford Western.
Traditional quilts are constructed with a top layer that is either a grid or a more intricate pattern of pieces of fabric sewed together. Quilts manufactured by machines rather than by hand may have a simple, monochromatic grid in them.
Depending on the material, the interior batting might be made of wool, down, or polyester. To make the bottom layer look like the top layer, use a single piece of cloth.
Traditionally, a comforter was made by sewing two identical pieces of fabric together in a grid pattern. Sewn-through or baffle box constructions can be used in the manufacturing of a comforter. A sewn-through comforter is one in which the stitching extends from one side to the other. In a baffle box construction, there are additional layers of fabric between the comforter's top and bottom layers. This gives the comforter a more three-dimensional form, allowing the fill to expand more fully.
There will be some form of fluffy fill, such down or a down substitute, in each of the squares or boxes If you are allergic to feathers, you may want to consider a hypoallergenic material like polyester as a substitute for down.
Duvet and comforter words are often used interchangeably, which can lead to confusion. Both "comforter" and the cover for a comforter might be called a "duvet," depending on how it's used. Check out our comparison of duvets vs. comforters to learn more about the differences.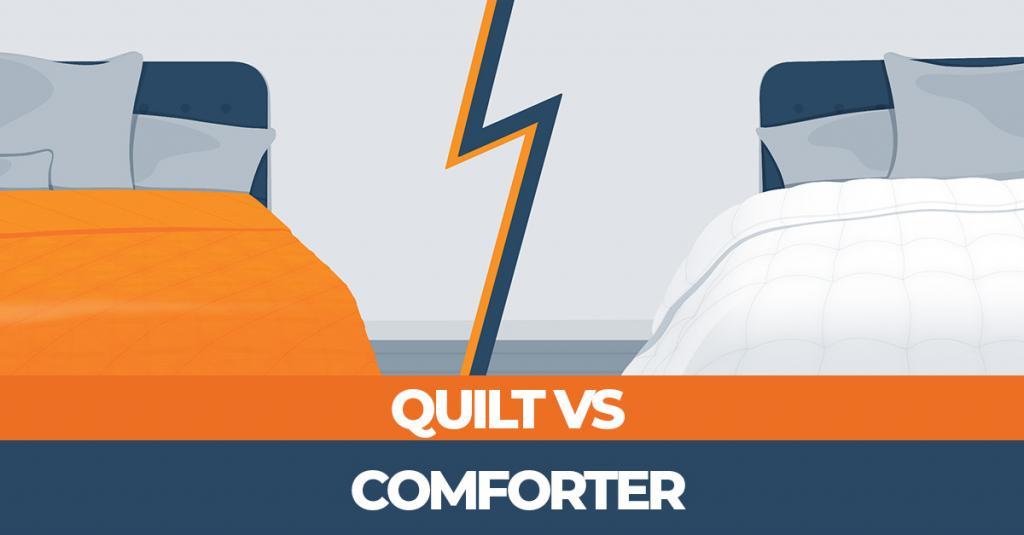 Comparing Quilts Vs Comforters
When comparing quilts and comforters, there are a few things that they have in common. Similarly, both types of bedding can have cotton in their top and bottom layers and both can be filled with down or polyester, as well. It's also possible for them to have a gridded design.
Comforters and quilts, on the other hand, have a number of distinct features. As a starting point, comforters tend to be more dense than quilts in general. Some of the best comforters might have a cloud-like and fluffy feel to them, whereas quilts tend to be more flat.
Comforters are typically warmer than quilts because of the additional fluff and loft. Down comforters with a baffle box construction, in particular, are more effective at insuring the sleeper's body heat than thin quilts are.
Similarly, the design of a comforter or quilt might be fairly diverse depending on the manufacturer. It is possible to find modest, one-color quilts in current designs, but there are also more intricate and flamboyant examples. When discussing traditional and classic-style quilts, this is much more prevalent. They can have a jumble of different patterns, colors, and images. Whereas, the majority of comforters only come in one color and one fabric type.
When it comes to their intended usage, comforters and quilts are also distinct. For the most part, a comforter is only going to be utilized for sleeping and napping on a bed. Aside from beds, quilts can also be used as couch wraps or even tablecloths, depending on the fabric and design.
Who Should Pick A Quilt?
Hot sleepers. A quilt is a good choice for people who sleep hot and need a light layer of insulation, but don't want a heavy blanket. Because they are thinner, quilts are less likely to cause sleepers to overheat than comforters.
Those who want to change the look of their bed. Quilts are a great way to transform the look of a bed or bedroom. A quilt can give a room a new rustic character, or it can just add some color to the space.
Fans of layers. It is likely that a quilt will need to be used in conjunction with other forms of bedding or another quilt in order to provide adequate warmth. For people who prefer to sleep in multiple layers of blankets, this may not be a problem.
Who Should Pick A Comforter?
People who need bedding for colder nights. For those chilly evenings and colder months, comforters are a better choice than quilts because they are typically warmer. Most people should be able to sleep more comfortably because of the higher levels of insulating fill.
Those who want something fluffy and cloudlike. A comforter is the way to go if you want to sleep under a large cloud. To have that fluffy sleeping sensation, most comforters are going to be fluffier than quilts.
Those who want something to use by itself. A comforter does not need to be combined with any other bedding, except for a top sheet, in order to provide adequate warmth. A comforter is a good option for those who like a less layered look on their bed.
FAQs
What is the difference between a quilt and comforter?
Quilts and comforters have a lot of differences. Comforters are thicker and more insulating, while quilts are thinner and less insulating. If you're looking for something a little more out there, a quilt may be the best option.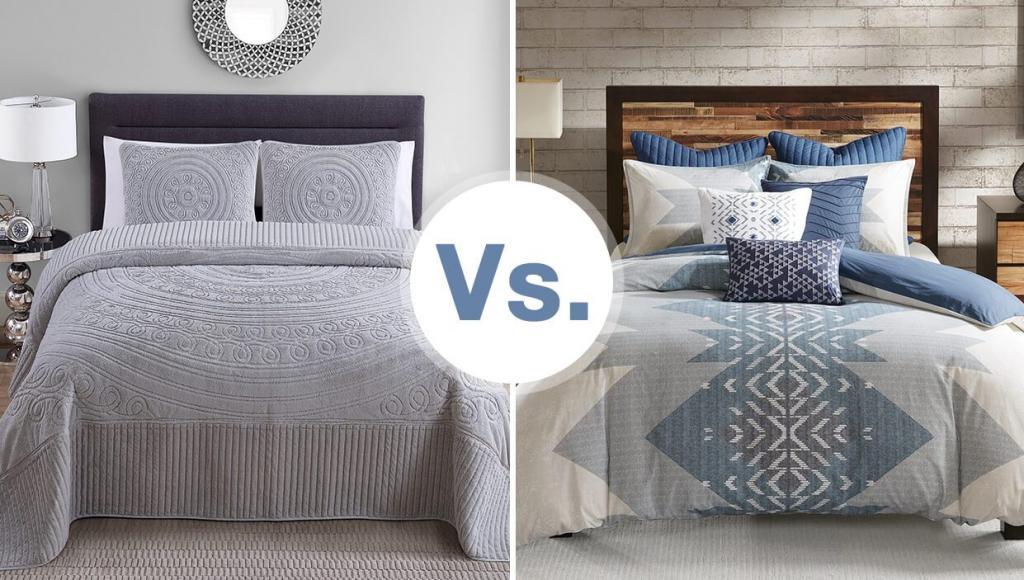 Is a quilt lighter than a comforter?
Comforters are heavier than quilts in general. They tend to be smaller and less insulated than comforters.
Can you put a quilt over a comforter?
A comforter can, in fact, be used as a base for a quilt. Adds a layer of warmth and depth to the overall design. When choosing a comforter, keep in mind that the weight of the quilt can reduce the fluffiness of your bedding.
Is a quilt better than a comforter?
In general, a quilt doesn't offer any advantages over a comforter, however different types of sleepers may prefer one over the other. Quilts are more suited for hot sleepers, those who like to sleep with multiple layers of bedding, and those who wish to change the décor of their bedroom.
Can you wash a quilt?
If you prefer to wash your quilts by hand or in a washing machine, warm water and a little liquid detergent are all you need. The best way to dry your quilt is to either use a dryer or let it out in the sun to dry naturally. It is possible to wash a huge quilt in an industrial-sized washing machine at a laundromat.
Can you put a quilt over a comforter?
Yes! Place a blanket on top of your comforter if you prefer more warmth and extra layers. It's also a terrific method to show off your quilt's fine features and detailed design. Because of the weight of the quilt, it will lose some of its height under a down comforter.
Can you wash a comforter?
However, the easiest approach to clean your comforter is dependent on the material it is composed of, even though most of them can be machine washed. It is possible to wash these at home using a machine. However, if you have a queen or king-sized comforter, you should take it to a laundromat and wash it in an industrial-sized machine.
Your comforter may need to be dry cleaned if it's composed of down, silk, or wool, which can be harmed by water. Prior to starting the wash, make sure you read the laundry care directions thoroughly.
What is the best comforter for summer?
Tencel, cotton, or microfiber comforters are ideal for summer since they are lightweight and breathable. These materials don't retain body heat and help wick away sweat, so sleepers are kept dry and fresh all night long.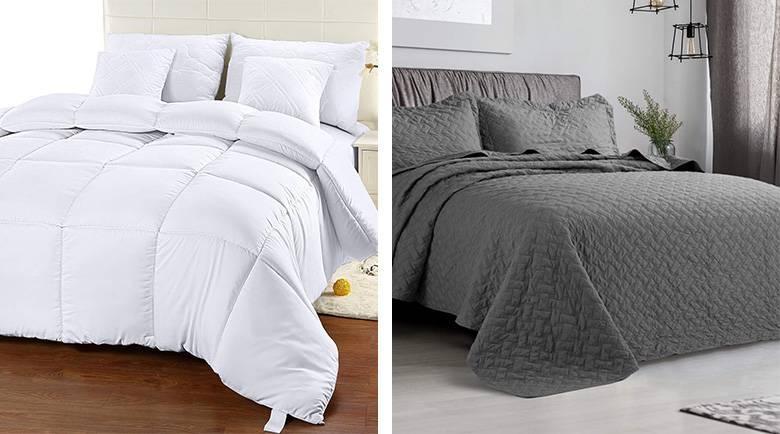 What is a duvet cover?
A duvet cover is a cover for a duvet or down comforter that may be removed and replaced. To prevent the blanket from shifting around as you sleep, ties inside the cover secure it to the bed. The comforter is held in place by buttons or a zipper down one side.