Among the most popular bed-in-a-box mattresses with zoned support are the original WinkBed and Casper. Although there are some similarities, they're about it. Unlike the WinkBed, which has a pillow-top design, the Casper is made entirely of foam. Both of these mattresses have a different feel and are best suited for various sleepers due to their unique structure.
Having trouble deciding between the WinkBed and the Casper based on your own sleep requirements? So you've found what you've been looking for! I'll go through the similarities, differences, and unique characteristics of each mattresses in this comparison so that you can select the ideal alternative for your sleep requirements. If you're short on time, read on for the gist or jump straight to the conclusion!
WinkBed vs Casper: Which is Better for You?
Which of these beds is best for you will depend on a variety of factors, including your personal sleeping preferences, body type, and whether or not you share your bed with a spouse or a pet. Here are a few of my personal favorites.
Who Should Buy the WinkBed
It's possible that the WinkBed would be better for you if you're a combo sleeper. This mattress is slightly more user-friendly than the Casper.
The WinkBed is ideal for stomach sleepers. In order to maintain a neutral alignment of the spine, stomach sleepers require a mattress with strong coil support.
If you weigh more than 250 pounds, the WinkBed is the finest mattress for you.
Who Should Buy the Casper
The Casper could be ideal for side sleepers. Shoulders and hips will likely feel more comfortable than with the WinkBed. However, there is a "Softer" model of the WinkBed that may be a better fit for you.
In the case of sharing a bed, the Casper is the superior option. As a result, you'll be less disturbed by your bedmate's movements on this mattress compared to the WinkBed.
If you're on a tight budget, the Casper mattress is the best option.
WinkBed vs Casper: Similarities and Differences
WinkBed and Casper appear to have little in common at first glance. However, there are some similarities between them. Before I get into their contrasts, I'll talk about what they have in common. You can learn more about Casper and WinkBeds mattresses by reading our in-depth reviews.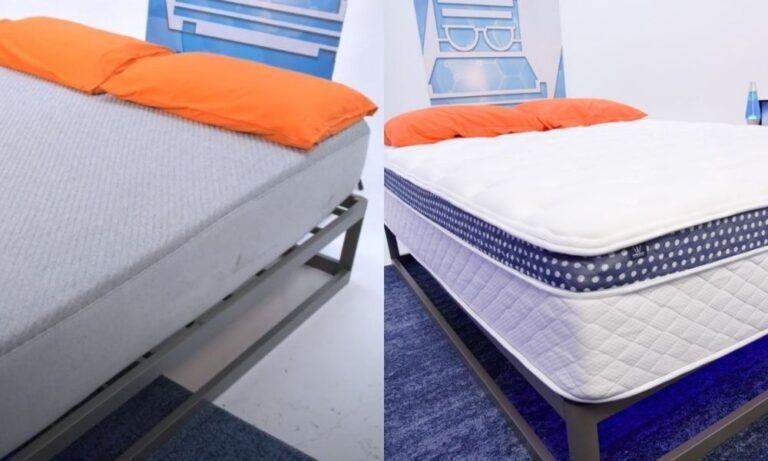 Note: Softer, Luxury Firm, and Firmer are all options with the WinkBed. This WinkBed review will focus on the Luxury Firm model.
Main Similarities
A zonal support system is included in the Casper and WinkBed mattresses, with stiffer support in the hips and gentler support in the shoulders. Helps prevent shoulder and back strain for those who sleep on their backs.
Casper and WinkBed both have excellent cooling functions that should be appealing to overheated sleepers.'
The WinkBeds is a little more bouncy than the Casper, but both of these mattresses will make you feel like you're "on top of" them. I'd suggest our top memory foam mattresses instead if you want something with a more body-contouring feel.
Both of the beds are firm.
Main Differences
Unlike the Casper, the WinkBed uses innerspring coils in its construction. Read our Casper Hybrid Mattress review to learn more about the hybrid version of Casper's original mattress. Here, I'm going to concentrate on the first foam Casper.
The WinkBed's hybrid structure means that it is more bouncier and supportive than the Casper.. Those who weigh more than 250 pounds will be happy to hear this.
Compared to the WinkBed, the Casper mattress costs less.
WinkBed and Casper Mattress Feel Comparison
Let's see how these mattresses compare to each other in terms of comfort! My firmness test is one of the methods I use to investigate this subject. An industry standard for medium firmness is 6.5, with a score of 1 indicating the softest and a score of 10 indicating the most rigid. Even while everyone experiences firmness differently due to their body weight and personal preferences, this range is rather subjective. The ratings I've given these beds are based on my personal experiences with them.
WinkBed
The WinkBed is available in three firmness levels, ranging from about a 5 to a 7.5 on the mattress firmness scale, according to my rating. You can get a good night's sleep on a WinkBed if you choose the Luxury Firm option. This bed is stiffer than medium-firm, according to my firmness rating of 7 out of 10.
As I sank into the WinkBed's cushion top, I felt some good pressure relief, but I didn't get stuck because of the lift provided by its pocketed coil layer. For those who sleep in a variety of positions during the night, this mattress is ideal.
This bed's zonal support system was also a big plus for me, since it both raised my hips and cushioned my shoulders from too much strain. For those who sleep on their backs or stomachs, this is a great option. And if you suffer from back problems, this supportive bed can be a good option for you.
Casper
Even though an all-foam mattress could be expected to be extra-soft, I found the Casper to be somewhat harder than medium-firm. Because it provides support in a variety of postures, it is firm. This mattress, like the WinkBed, had a responsiveness that was similar to that of the firmness. However, it was noticeably firmer than the WinkBed mattress, which felt more springy to me.
The Casper's zoned support system supports a neutral spinal alignment, while its memory foam contour layer provides some gratifying relaxation at the lumbar region for back sleepers. I recommend the Casper mattress if you like the feel of softer foam filling your lower back area.
Side sleepers who don't mind a somewhat firmer mattress may also enjoy this one. Zoned support helps alleviate pressure on the shoulders while also raising the thighs. To help alleviate back discomfort for side sleepers, this is a fantastic approach to allow their shoulders to sink in far enough on their mattress. These sleepers should keep in mind that the Casper's shoulder area sinks more than the WinkBed's.
Comparing What it's Like to Sleep on the WinkBed and the Casper
Depending on your favorite sleeping position and body type, a mattress will feel different. You can see how each bed feels in various positions, and how I expect it will feel for different weights, in the following paragraphs.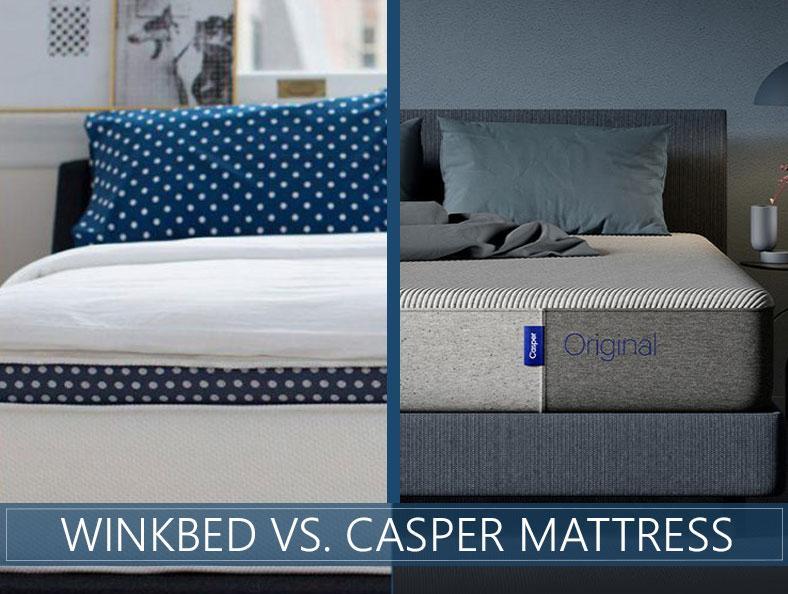 WinkBed
Back —For back sleepers, I think the WinkBed is a great option! A little firmer than medium-firm, you'll get good lumbar support to keep your spine straight and neutrally aligned with the rest of your body while sleeping.
Side —The WinkBed is likely to be overly firm for side sleepers. A softer mattress that allows the hips and shoulders to sink into the mattress is ideal for side sleepers.
Stomach —I believe stomach sleepers would be content on the WinkBed, thanks to the sturdy steel coils that provide a supportive feel. The Firmer variant of this mattress is best for stomach sleepers who prefer a firmer feel.
Body Weight — Because light sleepers (those weighing less than 130 lbs.) won't sink as deeply into the WinkBed as heavier people, it will feel firmer to them. In contrast, heavier sleepers (those weighing more than 250 pounds) may find it softer since they will sink deeper into the mattress's comfort layer. If you're a heavy sleeper, I think the WinkBed is supportive enough, but WinkBed also makes a variant specifically meant for heavier persons called the WinkBed Plus.
Casper
Back — For back sleepers, the Casper is a great option! If you're looking for a mattress that helps keep your back in a healthy position, this one is for you. Zoned support might be a lifesaver if you suffer from back pain.
Side — Despite my preference for the Casper over the WinkBed for side sleepers, I'd say this mattress is a little too firm for these individuals. A softer mattress, such as a memory foam mattress, would be my recommendation.
Stomach — When it comes to stomach sleepers I don't think Casper is the greatest option. However, if you're a combination sleeper who only sleeps on their stomach for a portion of the night, this bed may be suitable for you.
Body Weight — Heavy sleepers will find the Casper softer than I did, and light sleepers may find it a little firmer than I expected. For heavier folks, I would not recommend the Casper mattress, as it lacks the support they require.
Comparing WinkBed and Casper Prices
When purchasing a new mattress, price is a major concern. While the Casper is less expensive than the WinkBed, you can save money on both mattresses by using our Casper mattress coupon or WinkBeds mattress coupon.
Take a look at the chart below to compare prices side-by-side. Each size's pre-discounted pricing is shown in the table.
Comparing WinkBed and Casper Mattress Materials
Each mattress is constructed layer-by-layer in order to offer you a clearer picture of how these mattresses stack up against one another. Find out what makes these mattresses tick in the following paragraphs!
WinkBed
Cover — The WinkBed's Tencel cover is the first layer you'll come across. Tencel, a natural fiber noted for its breathability, is used in this mattress to keep you cool at night.
Euro-Pillow Top — Gel-infused foam cushions your body's pressure points with a soft, pillow-top layer. To help remove some body heat, the gel infusion here has been added.
Support Layer — A pocketed coil support system completes the package. Individually wrapped steel coils are used to reduce motion transfer in this mattress. There are seven zones of stiffness and pressure relief in this coil design, which can be found at various spots on the body.
Casper
Cover — A polyester cover is the first option. It's a bit thin, but it has a nice, cushy feel about it.
Comfort Layer — The next layer is a soft, open-cell foam comfort layer that allows you to sink into the mattress and relieve pressure points. The open-cell architecture of the mattress allows it to "breathe" and sleep a little more comfortably. Couples will appreciate the fact that it has a good amount of motion isolation.
Contour Layer — There's even more foam beneath the comfort layer! Additional sinkage and pressure alleviation are provided by a contour layer made of high-quality memory foam.
Transition Layer — Memory foam is sandwiched between two layers of foam. A zoned poly foam layer is being used this time around. For those who prefer to sleep on their side, this mattress is ideal because it is soft at the shoulders and firmer at the hips. When it comes to support, the Casper mattress uses two poly foam sections instead of seven in the pocketed coil layer of the WinkBed.
Base Layer — Lastly, at the bottom of the mattress, you'll find a layer of high density polyfoam. The layers above it can rely on this one for solid support.
WinkBed vs Casper: Best Qualities
Finally, we're nearing the end of our WinkBed vs Casper comparison, which has covered the structure, firmness, and feel of both mattresses. There is now only one question remaining: Which mattress is best for your needs? If I can't help you with that, I'll direct you to the following area, which may help!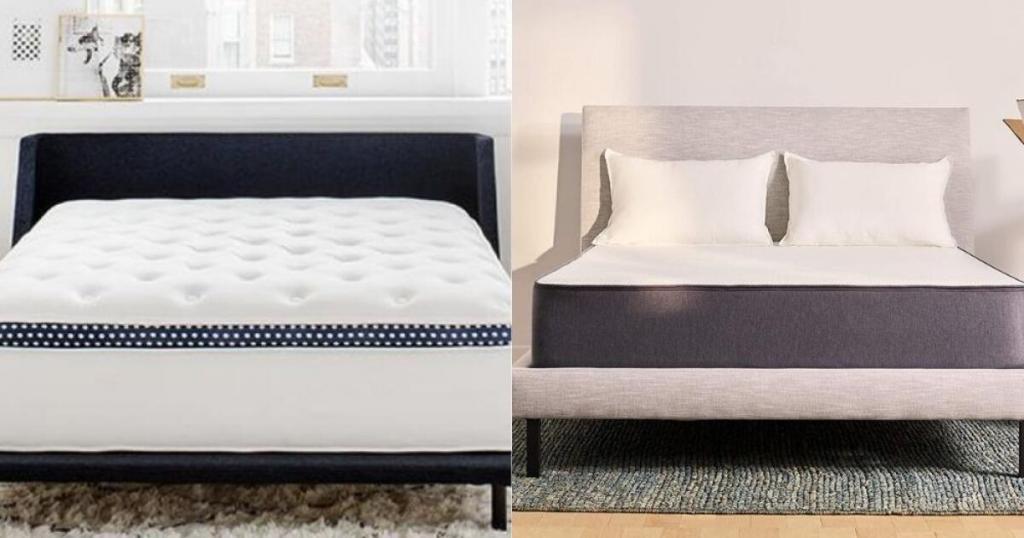 WinkBed Best Features
The WinkBed has a good deal of bounce on it. People who prefer the feel of an innerspring mattress, as well as those who need a little bounce in order to quickly alter positions, may find this mattress appealing.
The WinkBed, a bed-in-a-box mattress, is another option for those searching for a supportive mattress. Its sturdy coil support should be able to accommodate a wide range of sleepers with various body weights.
If you're in the market for a long-term mattress, the WinkBed is an excellent option. If you're looking for a mattress with excellent edge support, this one is for you (which adds to overall durability).
Casper Best Features
The original Casper is a terrific choice for those who prefer a foam mattress that strikes a good mix between pressure relief and support.
Casper is a great option for those on a budget because of its low price tag!
The Casper's zonal support system may provide some assistance if you suffer from back pain.
Comparing WinkBeds and Casper Customer Service
Customer service can be a major issue when purchasing a mattress online. To put your mind at ease, I put the customer service departments of both firms to the test. Below, I've given each of them a score out of four: The best, the best, the best, or the worst.
WinkBeds Sleepopolis Customer Service Rating
Great: I used WinkBeds' chat feature to raise a query and received a nice response. Despite the short wait, I've had to wait far longer for other mattress companies' customer care departments.
Casper Sleepopolis Customer Service Rating
Stellar: Having worked with Casper's crew, I had a wonderful time. When I called Casper's customer service number, I was likewise instantly connected to a person who was able to assist me. Both of the agents were quite helpful.
Who the WinkBeds Mattress is Best For 
Best For…
Plus-size people:It's possible to get the WinkBed in a plus size, which is composed of sturdy and supportive materials to accommodate people with larger frames. The WinkBed Plus is an excellent mattress for persons who weigh more than 230 pounds thanks to its high-density foams and sag-resistant latex.
Hot sleepers: Excess heat retention is reduced by the WinkBed's breathable TENCEL cover and innerspring coil layer.
Elderly people: In addition to a layer of durable foam along the lumbar spine, the WinkBed features zoned pocketed coils and an additional layer of foam for further support for joints. The combination of these elements creates a bed that is ideal for senior people who suffer from pain in their joints.
May Not be Best For…
Ultra-light sleepers: Unlike traditional mattresses, the WinkBed includes a bouncy innerspring coil support structure. In spite of the large foam layers on top of the mattress, you can still tell when someone moves across the room.
Shoppers on a budget: If you're on a tight budget, the WinkBed may not be the best option for you.
Memory foam mattress fans: Unlike memory foam, the WinkBed lacks the body-hugging properties of the material.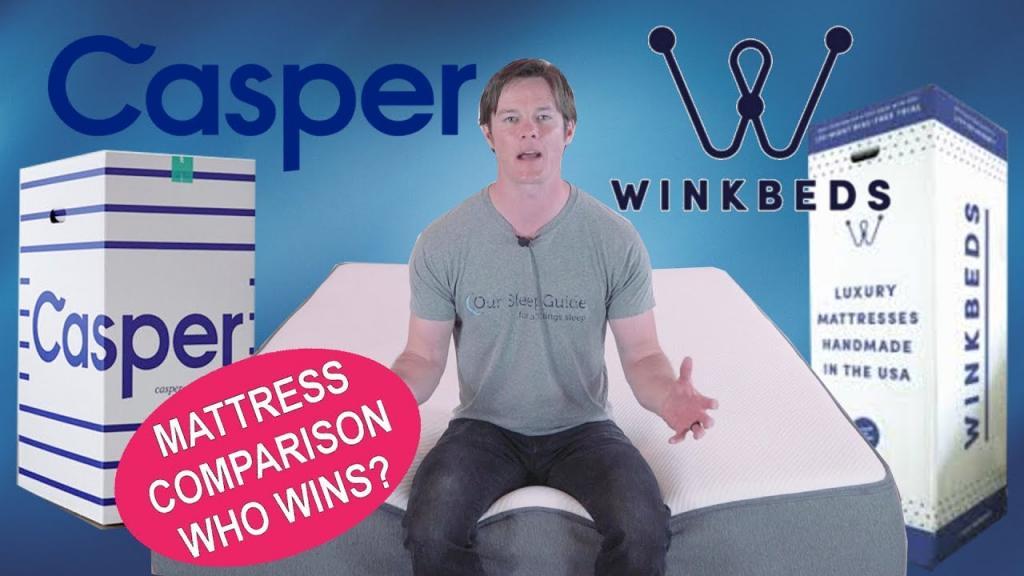 Who the Casper Mattress is Best For 
Best For…
Budget shoppers: Compared to other new mattresses, the Casper is a cheap option.
Couples: As a result of its all-foam composition, Casper's mattress does not move as much as conventional mattresses. For light sleepers who share a bed with a partner, pet, or child, motion isolation is critical.
People with lower back pain: The centre of the Casper mattress features firmer foam than the other two. People with lower back problems will appreciate the improved spinal alignment provided by the additional support along the entire spine.
May Not be Best For…
People who sleep hot: Casper is a foam mattress. In spite of its open-cell foam design, it retains more heat than most hybrid or innerspring mattresses.
People who like a bouncy feel: There are no steel coils in the Casper mattress to give it a springy feel, unlike standard mattresses. On this mattress, you won't get trapped, but there's not much bounce.
Heavyweight folks: To get the most out of Casper's support and comfort layers, you need to be fewer than 230 pounds.