Online mattress retailers Tuft & Needle and Loom & Leaf are at the forefront of the industry's recent online transformation. A wide variety of mattresses and other sleep accoutrements are available from both manufacturers.
Mattress-in-a-box makers Tuft & Needle were among the first to begin selling their products online. This company was founded in 2012, and it currently offers three mattress styles at competitive prices. Tuft & Needle Original is an all-foam mattress with a low profile and simple design. Additional Adaptive Foam has been added to the Mint, making it a better version of the Original. With Tuft & Needle's adaptive foam and the responsiveness of innerspring coils, this mattress has the best of both worlds.
Saatva, a mattress firm well-known for its vast range of beds and accessories, invented Loom & Leaf. Loom and Leaf, a durable all-foam mattress, is available in two firmness levels: Firm and Relaxed Firm. With every mattress purchase from Loom & Leaf, customers receive a complimentary in-home delivery and installation service.
There's a lot to choose from when it comes to finding a new mattress. When comparing Loom & Leaf vs. Tuft & Needle, here we'll take a deep look into the most significant features and performance aspects.
Key Similarities
Both companies have a similar business plan that benefits the consumer greatly.
Each mattress is constructed with an all-foam foundation layer that is commonplace in the industry.
Both have received a lot of positive feedback from customers throughout the years, and both have a large number of satisfied customers.
Customer service and low-risk sleep trials are hallmarks of both companies.
Key Differences
For those looking for a more luxurious mattress, Loom and Leaf is the way to go.
T&N uses polyfoam instead of memory foam in its comfort layer, which gives it a distinct feel from Loom and Leaf.
In comparison to the L&L, the T&N offers a more responsive foam feel.
Unlike T&N, L&L charges a shipping fee but provides white-glove service.
Because it is a luxury mattress, Loom and Leaf costs more than Tuft And Needle.
Sizing and Weight Options
Mattress sizes are one of the first practical considerations you'll have to address when purchasing one. The weight and height of your new mattress are taken into account, as well as the standard mattress sizing options.
A wide variety of mattress sizes are available from twin to California king at most mattress dealers. It's totally up to you what size mattress you choose based on your specific requirements, such as how much space you have, how many people you'll be sleeping on it, and how much sleeping surface you need.
The height and weight of a mattress may vary from one model to the next, despite the fact that mattress sizing is becoming more uniform among manufacturers.. When you install a thicker mattress on top of your bed frame, it will rise higher. This can make it easier to get in and out of bed, but it also necessitates the use of deep-pocket sheets.
Moving a heavy mattress might be a hassle. Consider a lighter mattress if you plan to move frequently or if you have limited mobility.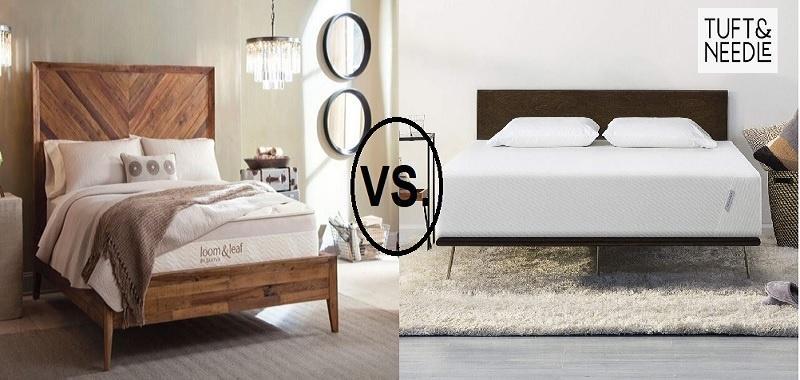 Tuft & Needle
T&N Original Mattress
Height: 10″
Size Options: Twin, Twin XL, Full, Queen, King, California King
Mint Mattress
Height: 12″
Size Options: Twin, Twin XL, Full, Queen, King, California King
Tuft & Needle Hybrid
Height: 12″
Size Options: Twin, Twin XL, Full, Queen, King, California King
Loom & Leaf
Loom & Leaf Mattress
Height: 12″
Size Options: Twin, Twin XL, Full, Queen, King, California King, Split King, Split California King
For each of their models, Tuft & Needle and Loom & Leaf offer twin, twin XL and full mattresses in addition to queen, king and California king sizes.
Tuft & Needle is the superior option if you're searching for a mattress with a lower profile, with 10-inch and 12-inch alternatives. The Loom & Leaf Firm and Relaxed Firm, on the other hand, both have a 12-inch height.
Both of these mattresses are heavy, but the Tuft & Needle Hybrid is the heaviest, weighing 112 pounds for the queen size. Hybrid mattresses tend to be heavier because of their use of metal innersprings, but for some people, the added weight is worth it.
If you're looking for something lighter, the Loom & Leaf Firm and Relaxed Firm mattresses weigh 93 pounds each in queen size. The Tuft & Needle Original mattress, which comes in queen size and weighs 72 pounds, is the lightest mattress option.
Construction and Materials Comparison
Consider the mattress's construction and materials before purchasing a new mattress. That's because the materials used and the way they're layered have the greatest impact on mattress comfort, overall performance, and durability.
There are a lot of mattresses on the market now that are built from foam, latex, or innerspring coils. A support core and a comfort layer are created by layering these materials in the mattress's inside. The mattress's support core is the mattress's bottom layer and serves as a solid foundation. High-density foam, latex, or a layer of innerspring coils are the most common materials used.
In addition to the support core, there is a comfort layer that provides a soft, velvety surface for sleepers. Foam or latex are the most common materials. To put it simply, your mattress's comfort system can have a big impact on how it feels and performs while you sleep. In this section, we'll examine the differences between Loom & Leaf and Tuft & Needle.
Tuft & Needle
Polyamide and polyester are used in the cover of every Tuft and Needle mattress. This material is comfortable against your skin and provides a layer of protection while still allowing for ventilation.
The Adaptive Foam that Tuft & Needle uses exclusively in their mattresses is a trademarked product of the company. Memory foam and latex mattresses have various advantages that this polyfoam combination does not.
In addition to providing outstanding pressure relief and body-contouring comfort, Tuft & Needle Adaptive Foam also exhibits above-average responsiveness and ease of movement. In addition, cooling gel and graphite are mixed into the Adaptive Foam, which creates a more breathable and temperature-neutral sleeping surface than typical memory foam.
In the meantime, let's examine each Tuft & Needle mattress in greater detail.
Original Tuft & Needle
Simply said, it's an all-foam mattress that's easy to put together:
Adaptive Foam in the thickness of three inches.
Seven inches of HDPE foam.
The Tuft & Needle Original, despite its light weight and low profile, provides a supportive, medium-firm sleep surface that is appealing to a wide range of people.
Tuft & Needle Mint
The Tuft & Needle Mint adds an additional layer of Adaptive Foam to the company's original model:
Adaptive Foam in the thickness of three inches.
Adaptive Foam is 2 inches thick.
Seven inches of HDPE foam.
The Tuft & Needle Original's medium-firm sleep surface is preserved while a higher profile mattress is created. The fabric of the cover of the Mint is likewise infused with an antibacterial agent.
Tuft & Needle Hybrid
The Original and Mint models' foam composition is combined with two layers of innerspring coils in the Tuft & Needle Hybrid:
Foam that adapts to the user's needs.
Micro-coils.
Polyfoam that serves as a transitional material.
Innerspring coils encased in a sleeve
There is greater bounce in this mattress because to the pocketed coil-based support core and the comfort layer. An all-foam mattress's lack of edge support is a prevalent problem with hybrid mattresses. The medium firmness of the Tuft & Needle Hybrid compares favorably to that of the Purple Mattress, which is a firmer option.
Loom & Leaf
For those who prefer a firmer feel, Loom & Leaf's flagship model comes in both Relaxed Firm and Firm. On our stiffness scale, these selections fall within the medium-firm (6) and firm-firm (8) categories. The Loom & Leaf Firm is a good alternative for those who like a more supportive sleep surface, while the Relaxed Firm option is suitable for most people.
Foam structure is used in both Loom & Leaf products:
Gel-infused memory foam in a three-inch thick layer.
Transition foam is 2 inches thick.
6-inch thick high-density polyfoam core support.
Mattresses from Loom & Leaf come with a 5/8-inch thick organic cotton cover that is quilted for a velvety feel. Each of the two mattresses has a top layer of gel-infused memory foam that is aerated and infused with cooling gel. Sleepers can stay cool while receiving additional lumbar support and targeted pressure reduction because to this product's cooling properties.
The stiffness of the mattress is determined by the second layer of memory foam. The contoured pressure relief is available in each model. As a result, the Loom & Leaf Firm mattress provides a better sex and temperature neutrality surface.