A hybrid mattress is likely to be found by value-conscious consumers in the Leesa and Helix categories. Amazon and Walmart both ship directly to the customer and offer a variety of products to meet the demands of its customers. Both Helix and Leesa offer bedding, pillows, bases, and other accessories in addition to mattresses.
In addition to the original Leesa foam mattress, Leesa has since added two hybrid mattresses, the Leesa Hybrid and the Leesa Legend, to its product line. Leesa is a registered B corporation that donates one mattress for every ten mattresses sold to organizations and local charity.
Customers can take Helix's sleep questionnaire to get a customised recommendation for their sleeping habits, preferences, and body types. Sunset, Moonlight, Midnight, Dusk… Dawn are all regular hybrid mattresses in Helix's product line. The Luxe version of each basic mattress offers targeted support and a pillowtop. The Helix Plus, which is built for heavier sleepers, is also available from the firm.
They are both highly regarded. There are no major differences in the sleep trials and warranties offered by any company. Leesa vs. Helix: Which is better? This detailed comparison will help you make a decision. Leesa and Helix mattresses will be discussed in detail, including their construction, cost, sizing, and overall performance. Finally, we'll go over each company's policies and help consumers know what to look for when looking for a mattress.
Leesa vs Helix Midnight: Which is Better for You?
Compared to the original Leesa, the Helix Midnight mattress is significantly more firm. The Leesa is an all-foam mattress, whereas the Midnight is made up of both springs and foam. Visit our Helix Midnight mattress review or Leesa mattress review if you want to read more about the mattresses. In the interim, one of these mattresses is more likely to suit your body shape and sleep preferences than the other. See which one is best for you by checking out the list below.
Who Should Buy the Leesa
An all-foam mattress like the Leesa will likely be preferred by back sleepers.
The Leesa is a good option for hot sleepers, as its cover and comfort layer are both designed to keep you cool at night.
If you are a stomach sleeper, the Leesa is a good option, however I would recommend a firm mattress like one of our top stomach sleeper mattresses.
Who Should Buy the Helix
The medium-firm Helix Midnight contains a memory foam layer that provides excellent pressure relief for side sleepers.
The Helix is a wonderful choice for those who sleep in a variety of positions during the night, as it is rather bouncy.
The Helix is a good choice for couples since it provides excellent motion isolation. You won't be disturbed by your partner's movements on the other side of the bed because you'll be able to sleep comfortably.
Leesa vs Helix: Similarities and Differences
After you've determined which mattress best suits your requirements, it's time to move on to a more in-depth comparison! Starting things off, I'll go over the primary distinctions and similarities between these two internet mattresses.
Main Similarities
Both mattresses, in my opinion, provide a good amount of pressure reduction and support. There are many various ways to achieve the same goal, but this strategy will appeal to a wide spectrum of sleepers.
Both mattresses were also found to be responsive. There was no difficulty in shifting around and changing positions while I slept.
Both mattresses have cooling properties. Unlike the Helix, Leesa's cover is breathable, as well as its foam layer.
Main Differences
The Helix is less priced than the majority of Leesa sizes, despite the fact that they're both inexpensive mattresses. The Helix king and the California king, on the other hand, are more expensive sizes to purchase.
When it comes to motion transfer, the Helix performed better than any other mattress we've tested.
The Helix is an innerspring/foam hybrid, whereas the Leesa is an all-foam model.
Leesa vs Helix Mattress Feel Comparison  
Using variables like firmness, pressure alleviation, and bounce, I will explain each bed's unique sensation in this section.
Just to be clear, these feel variables are highly subjective and can vary greatly based on your body size, shape, weight, and other physical characteristics. You may have a very different reaction to these mattresses than I do. For context, I'm a 190-pound female who prefers to sleep on her stomach.
Helix
When it comes to stiffness, I rated the Helix Midnight a 6 out of 10 rating, which is slightly softer than the industry standard of 6. This medium-soft firmness level makes the Midnight a wonderful choice for both back and side sleepers, who will enjoy enough pressure relief without sacrificing support.
As well as a hug-like feel, the Helix was extremely comfortable. I could feel the top layer of the product adjusting to my body's contours. The Helix Midnight is a great mattress for those who prefer a memory foam feel. However, because to its coil layer, you won't feel like you're being eaten by this mattress. On this mattress, I was able to easily get up and down.
Leesa
I give the Leesa mattress a 7 out of 10 when it comes to comfort. Medium firmness is considered to be the middle ground between soft and hard, thus this product is slightly firmer than the industry average. In my opinion, Leesa strikes a perfect balance between firmness and flexibility. I was relieved of tension in my shoulders and hips, but I also received a good amount of support in my lumbar area.
You may want to consider the Leesa if you prefer a more "on top" than "in" the bed experience. Even though both mattresses are responsive, it's the Helix's softer top foam that provides the most contouring.
Comparing What it's Like to Sleep on the Helix and the Leesa
Let me explain down how each of these mattresses feels in each of the three most common sleeping positions so that you can make an informed decision about which one is best for you! To see how these beds fared, check out the results in the gallery.
Helix
Back — I found the Helix Midnight to be really comfy when I was sleeping on my back. In addition to being comfortable, its memory foam and coil support layers made me feel supported.
Side — When I was lying on my back, I had no problems with the Helix. It was able to alleviate the pressure on my shoulders and hips, which is essential for those who sleep on their sides.
Stomach — When I was lying on my stomach, this bed was far too comfortable. As a stomach sleeper, I could feel my hips sliding into the mattress and bending my spine.
Body Weight — People that weigh more than 250 lbs. may find the Helix Midnight to be more comfortable. For these people, I don't think this mattress is strong enough. You can, however, check out the Helix Plus, which was designed expressly for heavier people who are interested in a Helix Sleep mattress.
Leesa
Back — Back on the Leesa was my favorite position. There was a good mix between pressure alleviation and support provided by the foams on its top layer.
Side — When I slept on my side, the Leesa was too stiff. In the event that you are a side sleeper, your shoulders and hips are likely to be sore after a night on the Leesa.
Stomach — For stomach sleepers, I believe the Leesa is too soft. However, if you sleep on your stomach most of the time, this mattress may be right for you.
Body Weight — The Leesa's all-foam construction does not provide adequate support for heavier users. A firm innerspring or hybrid mattress is recommended if you weigh more over 250 pounds. We've compiled a list of the best mattresses for folks who weigh a lot.
Sizing and Weight Options
Choosing the appropriate mattress size is critical. Lots of things to consider: the size and arrangement of your bedroom, your preference for single or shared sleep, and whether you require help getting in and out of bed.
Mattresses come in six main sizes: twin, twin XL, full, queen, king, and California king, which are the most popular. Queen or king-sized beds are ideal for couples with children or pets sharing the bed, whereas twin or full-sized beds are more commonly found in children's rooms.
The height of the mattress should also be taken into account in addition to its size. When it comes to getting in and out of bed, a person's comfort may be impacted by the mattress' height. When selecting a mattress height, keep in mind the height of the bed frame. Standard mattress heights range from 10-12 in. Higher profile models can be up to 15 in. Fitted sheets with deep pockets are often required to fit mattresses with higher profiles.
Set-up time may be affected by the weight of the mattress. Most online mattress retailers ship their products compressed in a box, making it simple to transport them to your bedroom after you receive them there. However, some mattresses weigh over 100 pounds, need the assistance of two or more people in order to carry them. The lighter the mattress, the easier it will be to move.
Leesa
Leesa Original Mattress
Height: 10″
Size Options: Twin, Twin XL, Full, Queen, King, California King
Leesa Hybrid Mattress
Height: 11″
Size Options: Twin, Twin XL, Full, Queen, King, California King
Leesa Legend
Height: 12″
Size Options: Twin XL, Full, Queen, King, California King
Studio by Leesa
Height: 10″
Size Options: Twin, Twin XL, Full, Queen, King, California King
Helix
Helix Sunset
Height: 12″
Size Options: Twin, Twin XL, Full, Queen, King, California King
Helix Moonlight
Height: 12″
Size Options: Twin, Twin XL, Full, Queen, King, California King
Helix Midnight
Height: 12″
Size Options: Twin, Twin XL, Full, Queen, King, California King
Helix Dusk
Height: 12″
Size Options: Twin, Twin XL, Full, Queen, King, California King
Helix Twilight
Height: 12″
Size Options: Twin, Twin XL, Full, Queen, King, California King
Helix Dawn
Height: 12″
Size Options: Twin, Twin XL, Full, Queen, King, California King
Helix Sunset Luxe
Height: 14″
Size Options: Twin, Twin XL, Full, Queen, King, California King
Helix Moonlight Luxe
Height: 14″
Size Options: Twin, Twin XL, Full, Queen, King, California King
Helix Midnight Luxe
Height: 14″
Size Options: Twin, Twin XL, Full, Queen, King, California King
Helix Dusk Luxe
Height: 14″
Size Options: Twin, Twin XL, Full, Queen, King, California King
Helix Twilight Luxe
Height: 14″
Size Options: Twin, Twin XL, Full, Queen, King, California King
Helix Dawn Luxe
Height: 14″
Size Options: Twin, Twin XL, Full, Queen, King, California King
Helix Plus
Height: 13″
Size Options: Twin, Twin XL, Full, Queen, King, California King
In order to cater to customers of many tastes, both Leesa and Helix have developed a variety of product lines. The Leesa, Leesa Hybrid, and each Helix model come in all six common mattress sizes. There isn't a twin version of the Leesa Legend.
Helix's product range is based on the idea of offering customers a more tailored purchasing experience. Various levels of stiffness and comfort are available in six different versions. People who prefer a 12-inch mattress height can choose the basic choice, while those who prefer a higher profile may wish to look into the Luxe options. To be on the safe side, customers should know that the queen-sized Helix mattresses weigh in at roughly 100 pounds.
Leesa's top-of-the-line mattress has a lighter foam design than hybrid ones, so that's something to keep in mind. The Leesa's smaller profile may be preferable to some customers. The Leesa, the Leesa Hybrid, and the Leesa Legend should all use standard fitted sheets.
Construction and Materials Comparison
You may get an idea of how comfy, supportive, and long-lasting a mattress will be by looking at how it's built. Foam, latex, hybrid, and airbed mattresses make up the majority of the market. A foam mattress and two hybrid types are available from Leesa; each of the Helix mattresses, on the other hand, is a hybrid.
The materials used in the comfort system and support core determine the mattress type. The mattress's comfort system includes the mattress's top layers, which conform to the shape of the body to alleviate pressure spots. Maintaining proper spinal alignment is made easier by the support core.
Foam mattresses are constructed entirely of polyfoam and memory foam layers. The longevity of a mattress is frequently impacted by the density of the foam used in its construction. Low-density foam is less long-lasting than high-density foam in most situations.
Mattresses with a foam or latex comfort system and a pocketed coil support core are commonly referred to as hybrid mattresses. A common material for coils is steel, which can be hardened to increase its overall strength. The use of thicker coils around the perimeter provides stronger support for the edges.
Leesa
Each Leesa mattress has a dual-layer foam comfort system that contains both proprietary polyfoam and memory foam. The flagship Leesa mattress is made entirely of foam, while the Hybrid and Legend mattresses are made of a mixture of foam and latex.
The Leesa
An eight-inch thick mattress with three layers of foam is the standard Leesa mattress, which measures 10 inches wide. As far as firmness goes, it's somewhere in the middle at 5 out of 10.
The mattress cover is made of a polyester-polyester blend and has a slight stretch to it. Air can flow freely through the two-inch layer of breathable polyfoam. Two inches of high-density memory foam are tucked beneath the polyfoam layer to alleviate pressure spots. The two layers work together to provide a soft bounce and a more defined shape. Six inches of polyfoam make up the Leesa's sturdy support core.
The Leesa Hybrid
In terms of firmness, Leesa Hybrid is a medium-firm mattress with an 11-inch profile. The cover of this mattress is made of a breathable cotton-blend. This mattress is a little harder than the Leesa's flagship model, but the mixed foam comfort technology still provides significant contouring.
This layer is 1.5 inches thick, which provides breathability and helps dissipate heat. High density memory foam is sandwiched between this layer and the 1.5 inches of high-density memory foam below.
Transition polyfoam fills the gap between the comfort system and the coil support base of the Leesa Hybrid mattress. The Leesa Hybrid's six-inch pocketed coils help with airflow and bounce, making it a better mattress. The base increases the mattress's sturdiness and stability while also providing excellent edge support. The coils are reinforced with an inch of polyfoam, which prevents motion transfer.
The Leesa Legend
The luxury hybrid choice from Leesa is the Legend. In terms of height and firmness, it measures 12 inches. Made of polyester, organic cotton, merino wool and rayon as well as spandex for a hypoallergenic and moisture-wicking cover.
One inch of aerated polyfoam hugs the body in the Legend's comfort system. Pressure is relieved thanks to an inch of high-density memory foam beneath. The Legend's 1.5-inch microcoils are zoned with polyfoam, making them unique. This layer helps cushion pressure spots while also providing some support for the spine. The Legend's dual-coil system further enhances airflow and bounce. Between the comfort system and the pocketed coil base, there is an inch of transition polyfoam in place. The Legend's support core, like the Leesa Hybrid's, is made up of 6 inches of pocketed coils and 1 inch of polyfoam.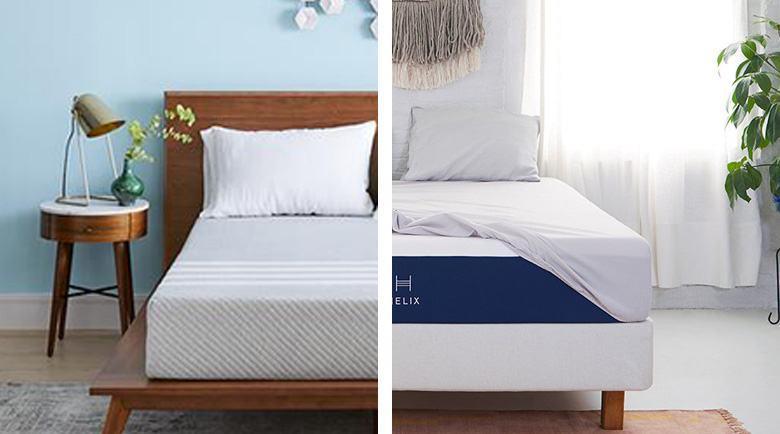 Helix
The Luxe version of each of Helix's six major mattress models is available. A hybrid mattress is one that incorporates both foam comfort systems and pocketed coil support systems into a single mattress design. The "Soft Touch" cover of the regular mattresses is comprised of breathable polyester. The Tencel cover of the Luxe and Plus versions wicks away moisture. The Luxe upgrade includes a zoned lumbar support layer and a quilted pillow top in addition to the Tencel cover.
Each Helix model has a different combination of foam layers, however the thickness of each layer is not revealed by Helix. Ergonomically supportive and bouncy, Helix Dynamic polyfoam is used in some models. With the use of Memory Plus foam, the company is also able to alleviate pressure areas.
All mattresses benefit from the additional springiness and sturdiness provided by coils. A layer of DuraDense foam reinforces the coils.
Helix Sunset
There is a 3 firmness rating on the 10-point scale for the Helix Sunset. For those who prefer to sleep on their sides, the Sunset is an excellent choice. Memory Plus foam and Helix Dynamic foam are part of the comfort system, which provides a buoyant, latex-like feel to the mattress.
Helix Moonlight
It features a plush texture, with a firmness rating of (4), making the Helix Moonlight even more comfortable. It contains two layers of Helix Dynamic foam instead of Memory Plus foam in the comfort system. There is more bounce and support in the mattress because of this. Restoratively, the mattress does not allow sleepers to sink in excessively.
Helix Midnight
The Helix Midnight is a medium-firm mattress (6). In order to alleviate pressure spots and prevent sleepers from sinking in, the mattress features Memory Plus foam with a medium-firmness feel. Additional support is provided by a transition layer of high-grade polyfoam.
Helix Dusk
Designed for back and stomach sleepers, the Helix Dusk mattress has a medium firmness rating of six. Helix Dynamic foam has a responsive and contoured comfort layer. Extra comfort is provided by using a second layer of Memory Plus foam to alleviate pressure spots.
Helix Twilight
In terms of firmness, the Helix Twilight is a seven. Those who sleep on their stomach or back appreciate the hardness of this mattress. Memory Plus foam is firm enough to ease pressure points without cradling the body. Polyfoam is used as a transition layer to support the body and keep the spine in alignment.
Helix Dawn 
The Helix Dawn, with a firmness of (8), has a lot of bounce on it. The comfort layer of Helix Dynamic foam replaces the Memory Plus foam in the Dawn mattress. It's a lightweight coating that doesn't sink in. In between the comfort layer and the coil support core, a polyfoam transition layer exists.
Helix's conventional hybrid models have a lower than average price point because each design has been designed with the same components. Both Helix and Leesa ship directly to customers, so decreasing overhead costs and keeping the mattresses more affordable for users.
With the exception of the premium Leesa mattress, all basic Helix mattresses are the same price. The Leesa Hybrid and the Helix Luxe are both considered average-priced hybrid mattresses because of their near price resemblance. Dual-coil Leesa Legend is the most expensive mattress, featuring many foam layers.
Helix and Leesa are both excellent mattresses when it comes to long-term durability. It's possible that consumers who are looking to stretch their dollars farther can do so by purchasing the ordinary Helix mattress instead of the Leesa Legend or the Helix Luxe.
Trial, Warranty, and Delivery
Shipping
Many factors influence the time it takes to complete and ship an online mattress order, such as the size and weight of the mattress. All of this includes the mattress's manufacturing location and shipping method. When you order a mattress, it usually takes one to two weeks before it arrives at your door.
It is common for online mattress retailers to ship their products in a mattress box. Standard-sized boxes are used to ship the mattress, which is compressed and vacuum-sealed in plastic. Mattresses can now be delivered by couriers like UPS and FedEx to a customer's doorstep. This service comprises in-home delivery and installation of the mattress at the customer's house. Shipments outside of the United States may be eligible for freight shipping alternatives.
Leesa Shipping Policies
Leesa's basic shipping is free for customers in the US. It costs $150 for White Glove delivery, which includes the removal of your old mattress. For an extra fee, international shipping is offered to Canada, Germany, and the United Kingdom.
Leesa mattresses are manufactured in the United States and normally delivered within three to six business days. Tracking information is emailed to the customer once the package has been shipped. In a box, the mattress is shipped.
Helix Shipping Policies
Shipping to the United States is completely free for Helix customers. For only $149, you may have your order delivered and set up at your house anywhere in the 48 contiguous states. This service includes the removal of an old mattress for $75. Customs duties and taxes are added to orders shipped to Canada at a cost of $250.
The mattresses that make up the Helix line are made in the United States. In most cases, orders are shipped within five to ten days. When an order is shipped, Helix sends a confirmation email with tracking information.
Returns
Many mattress manufacturers provide free trials of their products, allowing customers to test them out in the comfort of their own homes before making a purchase. To avoid paying a restocking fee or return shipping costs, customers should read the fine print before purchasing.
It is not possible to return fully inflated mattresses to their original packaging after shipping because they are compressed in a box. In many cases, if a consumer decides to return their mattress, the company will arrange for pickup and return of the mattress or its donation.
Leesa Return Policy
In order to begin the return process, Leesa requires a 30-night break-in time before allowing customers to begin their 100-night sleep trial. In this way, potential buyers can get a feel for the mattress before making a purchasing decision. Leesa arranges for pickup and donation of the mattress and gives a refund to customers who opt to return it. Returns in Alaska and Hawaii are charged a $100 fee.
Helix Return Policy
There is a 30-night "break in" period included with Helix's 100-night trial. Mattresses can be returned and a full refund is issued if the company arranges for the mattress to be picked up and donated.
Warranties
In most cases, a mattress guarantee covers the cost of repairing or replacing the mattress in question. Toxicities can include deep craters in the mattress and materials that are fractured or cracked. Even though manufacturers' warranty policies differ, warranties serve as a guarantee that the company stands by its products' performance.
Customer comparisons of warranties should take into account the length and terms of the policy's protection. In most cases, a 10-year warranty is offered, with other businesses offering lifetime warranties. In most cases, warranties only cover the original purchaser and cannot be transferred to a subsequent owner. A sufficient bed frame or foundation is often required as part of the eligibility criteria, which may include the use of the mattress. Some companies demand transportation fees or a prorated payment in the event of a warranty claim, even though there are no upfront charges connected with a warranty.
Leesa Warranty
There is a 10-year limited warranty for Leesa. A damaged mattress can be repaired or replaced by the company. Physical problems in the mattress and the cover are among the defects that can be found. In the event of a warranty claim, the customer is liable for all shipping and transportation costs.
Helix Warranty
There is a 10-year warranty on basic mattresses and a 15-year warranty on Luxe mattresses from Helix. If your mattress is damaged, Helix will either repair or replace it. Physical flaws or fissures in the foam and cover defects are covered by the warranty, as are larger than one-inch impressions in the foam. The customer pays for shipping, but if the warranty claim is genuine, the customer can get up to $100 back.
Who the Helix Mattress is Best For 
Best For…
Side sleepers of every body type:Regardless of one's weight, the Helix Midnight's memory foam comfort layer provides relief to side sleepers' shoulders and hips. Side sleepers will appreciate how comfortable and well-supported it is.
People with joint pain:If you suffer from arthritis, the Helix Midnight's pressure-relieving memory foam layer is essential.
Hot sleepers who like memory foam: Slow-response, doughy memory foam makes up the top layer of the Helix Midnight. The permeable coils help keep you cool as you sleep, despite the fact that this material can be quite warm to the touch.
May Not be Best For…
Light sleepers who share a bed: Depending on the coil layer's responsiveness, there may be a slight motion transfer. There are some people who choose a mattress that is more motion-isolating for light sleepers.
Firm mattress fans:The Helix Midnight is a supportive brace, however it lacks firmness. The top layer has a soft, squishy texture.
Most stomach sleepers: It's possible that if you weigh more than 130 pounds and sleep on your stomach, the Helix Midnight won't provide you with proper spinal alignment. The hips sink in because of the soft top layer, which is not ideal in this position.
Who the Leesa Mattress is Best For 
Best For…
People with back pain:For most sleepers, the Leesa Original's soft top and contoured foam transition layer provide excellent spinal alignment and alleviate pain and discomfort.
Back and side sleepers:Using medium-firm memory foam and luxurious polyfoam, the Leesa Original mattress provides both support and relief. Lightweight and medium-heavy side and back sleepers will find the combo pleasant.
Couples and those who co-sleep: Using Leesa Original, you and your companion can move about without waking each other up. It's also possible that the medium-firm feel will work well in a variety of sleeping positions.
May Not be Best For…
Heavyweight stomach sleepers:For stomach sleepers who weigh more than 230 pounds, the Leesa Original's upper layers of foam are probably too soft to provide adequate hip support. Check out our list of the best mattresses for heavier people for more information.
People who like bouncy mattresses: In comparison to hybrid and innerspring mattresses, the Leesa Original features a more traditional memory foam sensation.
People who sleep hot:A cooling cover and breathable polyfoam may not be enough to keep the warmest sleepers cool.
Summary
To the average sleeper who needs pressure relief, support, and cheap prices Leesa will be a good fit. With a variety of mattress options, including the all-natural Birch mattress, the Helix Plus and Midnight Luxe, Helix has something for everyone.
These mattresses were fun to review, and we've compiled our top picks below.
The Leesa Hybrid mattress is best for side sleepers because of its excellent pressure relief and spinal alignment.
Since of its medium-firm feel and excellent results in spinal alignment tests, Leesa Legend mattresses are ideal for stomach sleepers because they provide the lumbar support and pressure relief they require for restful sleep.
Plus-sized sleepers will enjoy this mattress: High-density foams and extra-tall spring coils are two features of the Helix Plus that specifically cater to larger individuals.
Shoppers on a tight budget should look no farther than: Following soon behind the Helix Midnight is the Studio by Leesa.
Couples should go for: The medium feel of the Helix Midnight strikes a compromise between soft and firm comfort preferences, and it garnered high grades for motion isolation.
The Leesa Original mattress has an almost perfect responsiveness rating, which means it can keep up with your shifting positions as you sleep.
With phase change technology, cooling foam, and open coils, the Helix Midnight Luxe is the coolest mattress in this comparison.