If you've been looking into memory foam mattresses, you've probably come across the Tempur-Pedic and Amerisleep brands.
Memory foam mattresses were first introduced by Tempur-Pedic in the early 1990s, and the company is responsible for its widespread appeal. Tempur-Pedic has merged with Sealy and expanded its services to encompass a wide selection of mattresses, foundations, and sleep accessories since its initial memory foam mattress was debuted. Memory foam is still the most important component in every Tempur-Pedic product. We are focusing on the TEMPUR-Adapt for the purposes of this review because the large array of Tempur-Pedic mattresses can be daunting. This mattress is made with the original TEMPUR material. It comes in two different styles: Medium and Medium Hybrid.
You are reading: AmeriSleep vs. Tempur-Pedic Mattress Comparison
In 2007, Amerisleep was established. Despite being a smaller manufacturer than Tempur-Pedic, it has established a reputation for excellent customer service and high-quality mattresses. The AS1, AS2, AS3, AS4, and AS5 mattresses are available from Amerisleep. Each of the five mattresses has a memory foam comfort layer and a high-density foam base. The various mattress styles pertain to the firmness of the mattress. Amerisleep's best-selling mattress is the AS3.
The Medium TEMPUR-Adapt mattress from Tempur-Pedic will be compared to the Amerisleep AS3 mattress in this review. Both of these mattresses are made of memory foam and provide contouring and support. Continue reading for a detailed comparison.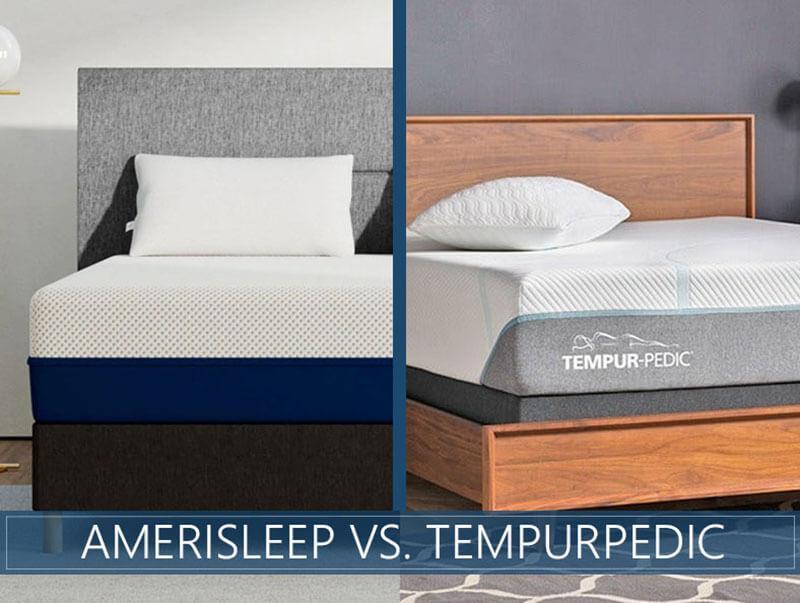 Amerisleep
All of Amerisleep's mattresses are made with CertiPUR-US Certified plant-based foam. The corporation places a strong emphasis on environmental stewardship. The AS3 mattress has three layers of foam with a fabric cover and stands 12 inches tall.
Bio-Pur memory foam is the top comfort layer, with an open-cell structure that enhances temperature regulation for a cooler sleep. It molds to the curve of your body and relieves pressure areas because it is made of memory foam. This layer is 3 inches thick, 4.0 pounds dense, and has an ILD of 10.
The Affinity transition layer is the second layer. Amerisleep's HIVE (Harnessing Intelligent Ventilation and Energy) technology is used in this foam layer, which has hexagon-shaped foam cores grouped together for increased support. This layer is 2 inches thick, 1.65 pounds in weight, and has an ILD of 30.
The Bio-Core foam support layer is the third layer, which boosts the mattress's longevity and resists sagging over time. This layer is 7 inches thick, weighs 1.8 pounds, and has a 35 ILD.
The breathable fabric cover on the Amerisleep mattress is integrated with Celliant technology, which converts body heat into infrared technology and improves blood flow and circulation.
Tempur-Pedic
Because it is considered confidential information, Tempur-Pedic does not give specific information about the construction of their mattresses. With responsive foam cells, the foam is meant to provide support and cushioning.
The TEMPUR-Adapt mattress is made entirely of foam and has three separate foam layers as well as a knit cover. There are no specific specifications about the density of each foam layer.
The comfort layer is made of TEMPUR-ES foam, which molds to your body's shape and provides comfortable support. The second layer is an adjustable and conforming support layer made of original TEMPUR foam. It's made to disperse your body weight equally. The comfort layers are supported by a polyfoam basis.
The knit cover has cool-to-touch technology for temperature neutrality, but there are no other information about its construction available.
Firmness Comparison
Understanding mattress firmness is critical when it comes to selecting the best mattress for you. Firmness is a personal preference that describes how comfy a mattress is. Personal preference, sleeping posture, body weight, and temperature preference are all aspects that influence comfort. Mattress firmness is usually assigned a rating on a scale of 1 to 10 to make things easier. Although it is rare to find a mattress at either extreme, 1 is exceedingly soft and 10 is highly firm. The majority of mattresses are in the middle. Soft, plush mattresses fit to your body and give you the sensation of sinking in. Medium to Medium-Firm mattresses are the most flexible to a wide range of sleepers, and thus the most popular. Firmer mattresses are still supportive, but they lack the comfort of softer beds. Mattresses from Amerisleep and Tempur-Pedic are available in a variety of firmness levels.
The AS1 is Amerisleep's firmest model, while the AS5 is their softest. The AS3 has a Medium firmness rating of 5.5, making it ideal for side and combo sleepers. It contours to your body's shape and relieves pressure areas.
The Medium firmness of the Tempur-Pedic TEMPUR-Adapt mattress is a 5 on the firmness scale. The memory foam layers work together to offer a responsive and supportive sensation that molds to your body while providing support and spinal alignment.
Sleep Experience
Read more : Casper vs. Amerisleep Mattress Comparison
Because the Amerisleep AS3 mattress and the Tempur-Pedic TEMPUR-Adapt mattress are both made of memory foam, it's crucial to compare their features. Continue reading to learn more about how these mattresses fare in terms of temperature regulation, motion isolation, responsiveness, and support.
Temperature Control
The design, materials, and firmness of a mattress have an impact on its temperature. A mattress that regulates temperature should be permeable and have sufficient air circulation. Memory foam mattresses have a propensity to keep you warm as you sleep. Air cannot circulate as effectively around the body due to their contouring shape and velvety feel, and the foam stores body heat.
Because of its open cell structure, the Amerisleep's plant-based foam is five times more breathable than generic memory foam. Celliant technology and thermoreactive minerals are used to knit the cover, which transform body heat into infrared energy. This results in a cooler night's sleep, which has been demonstrated to help in muscle repair.
Tempur-Pedic mattresses have a tendency to keep you warm as you sleep. The original TEMPUR foam is extremely responsive to body heat, despite the fact that they have enlarged their range to include more breathable mattresses with technologies to promote air circulation and control temperature. It absorbs the heat, softening and giving the impression of sinking in. Their plush, soft mattresses sink in deeper, reducing ventilation and giving the impression of sleeping hot. The TEMPUR-Adapt mattress features a permeable knit cover with cool-to-touch technology to help you sleep cooler.
Motion Transfer
Memory foam mattresses, on the whole, are better at isolating motion. They respond to pressure by absorbing the movement and preventing it from spreading to other regions of the bed.
While the softer, more plush Amerisleep models AS4 and AS5 give better motion isolation, the Amerisleep AS3 mattress still provides above-average motion isolation.
The motion isolation technique used by Tempur-Pedic is well-known. The TEMPUR foam responds to pressure and follows the contours of your body. As the foam responds to movement and takes time to return to its previous shape, motion is absorbed and separated.
Responsiveness
The responsiveness of a mattress determines its ability to provide proper support and spinal alignment. The mattress must respond to pressure points and provide contouring support in order for the spine to be aligned. Memory foam is a responsive substance because it conforms to your body's shape and keeps your spine aligned.
A sensitive transition layer in the Amerisleep AS3 reduces pressure points while equally supporting your body weight. The medium firmness provides support and cushioning without sinking in, keeping your spine upright.
The Tempur-Pedic TEMPUR-Adapt softens in response to heat and pressure, according to your body's shape. This mattress's medium firmness offers support and comfort for optimal spinal alignment and pressure point relief.
Resilience and Bounce
When you move or leave the bed, the resilience and bounce of a mattress determines how soon it returns to its original shape. Because memory foam absorbs motion and conforms to your body, it has a lower bounce than latex and innerspring mattresses.
When opposed to standard memory foam, Amerisleep foam is meant to return to its original shape within seconds. Although the memory foam absorbs movement, this adds a little extra bounce.
Tempur-Pedic foam is designed to return to its original shape, although it takes longer. As a result, there's a greater sense of sinking into the mattress and less resilience. The mattress takes longer to bounce back because it responds to body heat and pressure for improved motion isolation. This can make you feel like you're constrained in your movements.
Edge Support
Edge support relates to how supportive the bed's perimeter is, which is vital to consider when sitting on the bed's edge. While innerspring mattresses typically have a reinforced perimeter, memory foam mattresses do not. Given that it is an all-foam mattress, the Amerisleep AS3 has average edge support. Because the contouring memory foam lacks durability, the Tempur-Pedic TEMPUR-Adapt features below-average edge support.
Off-gassing and Smell
New memory foam mattresses, such as the Amerisleep AS3 and the Tempur-Pedic TEMPUR-Adapt, are prone to off-gassing. The odor is caused by chemicals dispersing and is not considered hazardous. The new Amerisleep mattress scent should go away within a few hours, if not a couple of days. This holds true for Tempur-Pedic mattresses as well. If the odor is particularly strong, Tempur-Pedic recommends drying out your mattress for the first few days by leaving the sheets off.
Shipping, Trial, Warranty, and Returns
It's crucial to think about how the mattress will be delivered while choosing a mattress. Online shopping comes with its own set of obstacles, and sleep trial lengths and return policies vary by company. Continue reading to learn about Amerisleep and Tempur-delivery, Pedic's return, and warranty policies.
Prices, Sizes, and Value
When purchasing a new mattress, it's critical to consider your budget and the level of commitment you're willing to make. The costs for the Amerisleep AS3 and the Tempur-Pedic TEMPUR-Adapt are listed below.
Despite the fact that the Tempur-Pedic TEMPUR-Adapt and the Amerisleep AS3 are both memory foam mattresses, their prices are significantly different. Using NASA-developed technology, Tempur-Pedic transformed the memory foam business. Tempur-Pedic mattresses are high-end mattresses that are among the most costly on the market. As a result, the Tempur-Pedic TEMPUR-Adapt mattress is more expensive. Amerisleep uses direct shipment to cut out the middlemen and provide a high-quality memory foam mattress at a low price. Seasonal deals and promotions are available from both firms, while the Amerisleep mattress remains the more affordable option.
Amerisleep Mattress vs. Tempur-Pedic Mattress – Which One Should You Buy?
Read more : Douglas vs. Endy Mattress Comparison
How do you choose between Amerisleep and Tempur-Pedic when your mattress options are limited to Amerisleep and Tempur-Pedic? Even when all of the aforementioned variables are taken into account, deciding which one is best for you might be tough. Below is a basic list of variables that may assist you in making your ultimate decision.
Buy the Amerisleep mattress if you:
If you prefer something more environmentally friendly, Amerisleep mattresses are made with plant-based foam, which means they utilize less petroleum in the manufacturing process. Variable Pressure Foaming is another method for producing foam in a closed environment (VPF). The air emitted from the foam is filtered by carbon filters in this zero-emission manufacturing process, leaving the air cleaner than it was before. Unlike any other foam manufacturing technique, VPF meets or surpasses the Clean Air Act's requirements.
Sleep hot: Because Amerisleep's plant-based foam has an open cell structure, more air moves through the AS3 mattress than standard memory foam mattresses. The fabric cover's Celliant technology absorbs body heat and transforms it to infrared energy for a cooler sleep. The Amerisleep AS3 mattress is more breathable and cooler than the Tempur-Pedic TEMPUR-Adapt mattress thanks to the combination of the two.
If you'd like a longer warranty, follow these steps: The Amerisleep mattress comes with a 20-year warranty, which is twice as long as the Tempur-Pedic mattress. Amerisleep gives a full replacement for the first ten years of the guarantee in the case of workmanship or manufacturing faults; the second half of the warranty is prorated.
Would you like to know what materials your mattress is constructed of? Amerisleep makes the composition of each layer of their mattresses, as well as the ILD and density of the foam, and the details of their production process, publicly available. This information is considered confidential by Tempur-Pedic and is not shared.
Buy a Tempur-Pedic mattress if you:
Prefer to buy from a company with a solid track record: Tempur-Pedic is the company that pioneered memory foam mattresses and has an established track record. They have a great reputation in the luxury memory foam mattress industry, with nearly 30 years of expertise.
If you want your old mattress removed, Tempur-Pedic offers complimentary White Glove Delivery, which includes mattress removal. Amerisleep does not provide this service.
Value motion isolation and contouring: TEMPUR foam is known for its outstanding motion isolation and contouring properties. The Amerisleep mattress provides motion isolation and contouring, but the Tempur-Pedic mattress allows you to sink even deeper.
Are you willing to invest in a high-end mattress: The Tempur-Pedic TEMPUR-Adapt mattress is a high-end memory foam mattress with a premium price tag. This may be the correct choice for you if you want to invest on a luxury mattress.
The Tempur-Pedic TEMPUR-Adapt mattress and the Amerisleep AS3 mattress are both excellent memory foam mattresses. Contoured support, pressure point relief, and a restful night's sleep are all features of these mattresses. Price, design, and construction variances may be the decisive considerations. When deciding between the two, take into account all of the elements discussed in this comparison to see which one best matches your requirements.
Verdict: Which Is the Best Mattress Brand?
Customers love these high-quality memory foam mattresses, which are all backed by hefty warranties. With so many distinct models to pick from, we understand if you're feeling a little overwhelmed. Although there is no clear winner for best mattress brand, there are great mattresses for your specific sleeping demands. Here are some of our suggestions:
Stick with any of the medium or soft mattress varieties if you're a side sleeper. The APR material, which Tempur-Pedic considers its most pressure-relieving substance ever, is used in both the Tempur-ProAdapt and the LuxeAdapt. The AS4 and AS5 models from Amerisleep are especially excellent at cushioning your hips and shoulders.
Mattresses that are medium-firm or firm are ideal for stomach and back sleepers. The AS1 and AS2 models from Amerisleep, as well as the Tempur-LuxeAdapt, Tempur-ProAdapt, and Tempur-breeze firm mattresses from Tempur-LuxeAdapt, Tempur-ProAdapt, and Tempur-breeze firm mattresses from Tempur-LuxeAdapt, Tempur-ProAdapt, and Tempur-breeze firm mattresses from Tempur-LuxeAdapt, Tempur-ProAdapt,
Couples: You'll need a bed that doesn't transfer motion. Take a look at the AS3 or Tempur-ProAdapt hybrid mattresses.
Tempur-ProBreeze and LuxeBreeze are the clear winners for hot sleepers. All Amerisleep AS models have the same moisture-wicking cover and breathable Bio-Pur foam layers, so if you can't afford it, you can still have a good night's sleep.
Budget-Shoppers: The mattresses from Amerisleep are by far the most cost-effective alternative. However, because they do not offer financing, be prepared to pay the entire price.
Luxury mattress shoppers: Take a chance on the Tempur-next-level LUXEbreeze's cooling comfort and support.
Are you still undecided? Both the AS3 and the Tempur-Adapt mattresses are medium firmness mattresses with affordable prices. They provide a good balance of comfort, support, and cooling for the average sleeper.
Source: https://bestpillowsleepers.com
Category: Comparisons