Your sleeping posture can influence the level of comfort you get during the night. Some of the things that disturb sleep include a stiff neck, tension headaches, back pain, and other aches from different parts of the body. If you are using a pillow that does not conform to your body well, then you could be getting yourself into more trouble.
For people prone to aches and pains, the best contour pillow would be their best option. A contour pillow gives the spinal cord and other parts of the body better support. It also gives the spine excellent support that helps to change your health and comfort as you sleep.
The following contour pillows give your body the perfect contouring to help support the neck, head, shoulders, and back. They also help to alleviate pain, improve your posture, and enable you to wake up feeling refreshed. The article also highlights the things to consider before buying a contour pillow.
See also:
Our Top Picks Contour Memory Pillow
UTTU Sandwich Adjustable Memory Foam Pillow
UTTU sandwich pillow comes with an adjustable loft that makes it comfortable to use. The pillow conforms to the natural curves of the body, relieving pressure and giving maximum support to the head and shoulders for restful sleep. The orthopedic pillow uses dynamic foam from UTTU that makes it remain consistent irrespective of the weather conditions or body temperatures, unlike many other memory foam pillow that become hard during the cold season.
The cover, made from bamboo, and polyester provides a cooling effect giving you the extra comfort you need. It is easy to remove and machine washable making it easy to maintain and keep clean always. After unpacking the pillow, it may emit a strong smell. The smell is, however, not harmful, and it does not last long.
Royal Therapy Memory Foam Pillow
Royal Therapy is a queen size pillow that comes with ultra-adjustable abilities. The design of the pillow contours well with the shape of the body to give the head and neck uniform support. The pillow, made from memory foam, comes in layers Hand you can choose to remove the middle foam for softer support.
The cervical therapy pillow helps the muscles to relax by offering the most natural spinal support to the body. It adjusts the shape of the body to a comfortable position that allows you to sleep without any turning and tossing. With better spinal alignment, your airways also get more natural breathing abilities that help to reduce snoring.
The cover of the pillow is from hypoallergenic and hygienic bamboo material. The memory foam, too, is hypoallergenic and does not inhibit the growth of fungus, bacteria, mites, mold, or dust. The bamboo material also dissipates heat, which leaves you feeling much more relaxed as you sleep. The beautiful therapy pillow is also durable.
MARNUR Cervical Memory Foam Contour Pillow
If you are looking for the perfect sleeping companion, get yourself the MARNUR cervical contour pillow made with memory foam. The pillow is suitable as an orthopedic therapy pillow and great for combination sleepers. It helps to improve the quality of sleep by contouring the body to give the spine a proper alignment for better sleep quality.
The shape of the pillow provides the neck and back an alignment that keeps the pain away and relieves muscle tension. It is also an excellent pillow for people that suffer from tension headaches. Both ends of the pillow come with different sizes giving you more options of using any end according to your thickness preferences.
Read more : Best Travel Neck Pillow For Airplanes Review 12/2023
The pillow may look deformed when you wake up in the morning, but it rebounds itself to the original shape very fast. The pillowcase is easy to remove and wash. The pillow is portable and comes with a reusable carrying bag. You cannot ask for a better contour pillow for all your sleeping patterns because not many come close to what this pillow offers.
Coisum Cervical Contour Pillow
One of the things that will strike you about this pillow is its unique shape. The ergonomic shape of the pillow comes with a design that perfectly contours your body for the best head, neck, and shoulder support. The contour pillow helps to improve blood circulation, which in turn helps to reduce snoring.
The pillow is ideal for all sleeping positions. It is also supportive of pregnant and nursing mothers. The butterfly-shaped pillow is hypoallergenic, and so is its pillow cover. The removable cover is machine or hand washable and resistant to mites and dust. The material of the cover is polyether and mesh fabric that gives the pillow all the protection it needs.
Another great feature of the pillow is its adjustable height. It comes with an easy to detach the bottom foam layer, which allows you to use the pillow at a height that suits your sleeping pattern. On opening the package after purchase, the pillow emits a strong odor, which is typical of many memory foam pillows. The smell goes away after some time.
Mugetu Gel Infused Memory Foam Pillow
If you are one of those people that sweat a lot during their sleep, you need to get a pillow that helps to regulate body temperature. You also need a pillow that will not change due to sweat seeping into the insides. Mugetu Gel Infused Memory Foam Pillow should do just fine if you are that person. The ventilated gel-infused pillow keeps you fresh throughout the night, and the same gel helps to keep the pillow firm and consistent irrespective of how many times you turn.
You can mold and reshape the pillow to any angle that suits your body most. It also comes with the option of adjusting the height to suit your preferences. All you need to do is remove the middle foam layer to get a shorter loft ideal for your sleeping position. Besides regulating temperatures, the pillow also comes with exceptional contouring abilities that give your back and neck maximum support for a good night's sleep.
The cover of the pillow is zip-off, easy to remove, and machine washable. The material that makes the cover is soft, durable, and breathable. With every purchase, you get a 30-day money-back guarantee if you the pillow does not live up to your expectations and you also get a lifetime warranty.
Sleep Innovations Memory Contour Pillow
If you are looking for the best therapeutical support for your back, you should try using the Sleep Innovations Memory Contour Pillow. The pillow comes with a curve design that holds your back, shoulders, and neck, providing the whole body with enough support for a comfortable sleep. The pillow stays in place the entire night, irrespective of how many times you turn.
It comes with a breathable cotton cover that provides you with more comfort as you sleep. The foam inside the pillow is both dense and soft. For optimum support, you can choose between lower and higher pillow contours. The USA made pillow comes with a limited manufacturer's warranty of 5 years and excellent customer service facilities.
It is easy to wash and maintain, and the price is affordable. The memory foam pillow is all you need for therapeutic support that will have you waking up recharged and refreshed each morning.
MALOUF Z Travel Size Memory Foam Contour Pillow
The Z Travel Size Memory Foam Contour Pillow is another great asset for comfortable and satisfying sleep. The easily portable pillow ensures that you get therapeutic support for your head, back, and shoulders wherever you go. It comes with a compression cover that makes it easier to fold and pack in your suitcase.
The removable and easy to wash pillow cover is super soft and made from bamboo, polyester, and rayon. The pillow has an ergonomic design that aligns with the spine perfectly to support the head, neck, and shoulder curves. The contour of the pillow not only ensures that you get a comfortable sleep, but it also helps to relieve pain from the back, neck, and shoulders by reducing the pressure points.
Read more : Best Pillows for Shoulder Pain Is Worth To Buy 12/2023
The memory foam keeps you cool throughout the night as it adapts to the body's temperature easily. The pillow comes with a three-year warranty.
Misiki Cervical Memory Foam Contour Pillow
Misiki is another quality orthopedic cervical contour pillow made with memory foam. The pillow has an eye-catching unique ergonomic shape that gives the neck maximum support as you sleep. It also provides excellent support for the cervical vertebrae, which may sometimes feel uncomfortable due to strain.
The pillow is especially suitable for people going through cervical spine injuries as it helps to relieve the pain. The curve design of the pillow also gives support to the head with its low-end, slotted look. Irrespective of how many times you rotate the head or neck at night, you can count on the pillow to provide you with enough support.
Made from high-quality memory foam, which moderates the hardness of the pillow, it minimizes shoulder stiffness and neck pains too. The memory foam also comes with a temperature sensor that keeps you cool even during the hot nights. The pillow is also the perfect choice for back and side sleepers, and its hypoallergenic nature means that it is safe to use for anyone. The pillow cover is detachable, made with polyester material, resilient, easy to wash, and durable.
What To Consider When Buying The Best Contour Pillow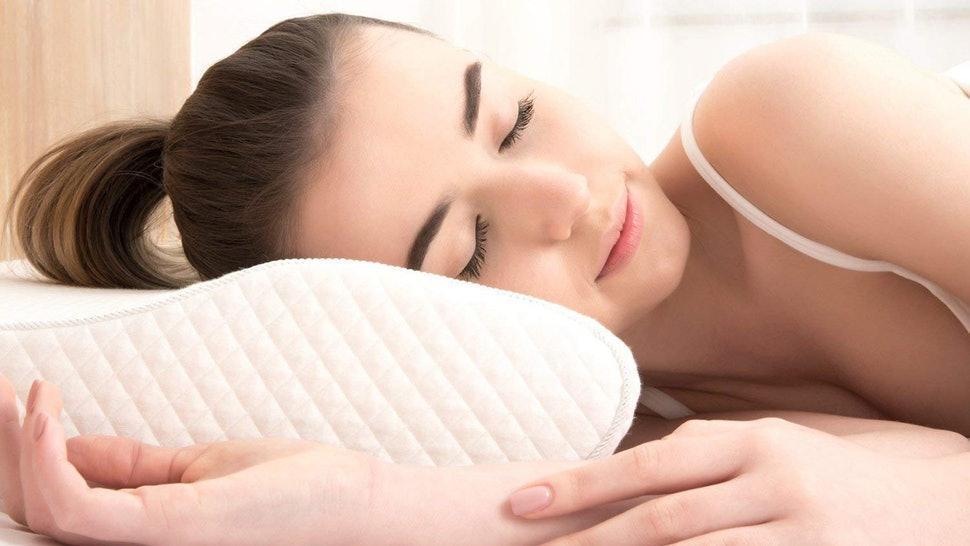 The first thing you have to remember before you go pillow shopping is that pillows do not come with a one size fits all. You have to take into consideration several factors before settling on the one you want. Below is a buying guide to help you when you go hunting for your contour pillow.
Sleeping style
When it comes to contour pillows, the first thing you have to consider is your sleeping position. Orthopedic contour pillows come in shapes that conform to particular parts of the body. If you are a side sleeper, look for a contour pillow that focuses on your position the same goes for back and stomach sleepers if you do not have any particular style, look for a contour pillow that goes well with combination sleeping styles.
Material
The material you choose for the pillow is also significant. If you are the type that wakes up all sweaty at night, look for a pillow with a material that does not retain any heat. Many of the best contour pillows have memory foam as the primary material, and luckily, some of them come with technologies that provide cooling effects.
Why you need a contour pillow
Unlike other kinds of pillows, when you are buying a contour pillow, you have to be sure of the reasons you want it. If you are prone to aches, pains, and headaches, then you need a contour pillow. If you wake up feeling tired, then you are on the right track by getting a contour pillow.
Changing from a regular pillow to a contour, one may take some time for your body to adjust to the curves. If you snore, then the most likely reason would be due to poor cervical support. Contour pillows address cervical issues, poor posture, and blood circulation.
Budget
Contour pillows are slightly more expensive than other pillows because they come with unique features. Before you go out there, make sure you know how much the pillows cost and check that against what you are willing to spend. Do not compromise your health for the cost. If you feel that you need a specific pillow to help with health issues, you should try to buy it.
Brand name
Another thing you have to know is that pillows come in many different brands. An orthopedic pillow is not just any ordinary product, so ensure that you are buying from the best to avoid buying fake products. You can check the best brand names by reading reviews and asking people that you know use contour pillows.
Wrapping it up
If you suffer from any pains and aches, then you should not wait until you get worse. Do not continue using pillows that do not do much to correct your situation. You can buy any of the above pillows for relief and comfortable sleep irrespective of your sleeping preference. Do not go buying a contour pillow blindly because the shape looks different from that of other pillows.
Source: https://bestpillowsleepers.com
Category: Best Pillows